Broadcast RF announces 4KRF UHD radio camera system for hire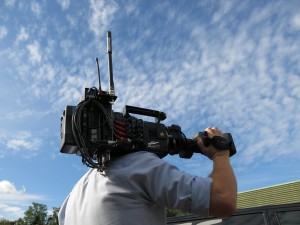 Broadcast RF, specialist provider of radio cameras for live broadcast, has released details of 4KRF – billed as the first ever complete Ultra High Definition (UHD) radio camera system packaged for hire and available now.
The 4KRF system comprises a Sony F55 camera to which Broadcast RF has added a full transmit and receive system for professional live broadcast, and it is offered with technical support if required, for events such as sports tournaments, live concerts and aerial filming.
Broadcast RF has also used the 4KRF system on a live helicopter downlink, working with Aerial Camera Systems (ACS) to obtain the world's first live 4K video from the air. Broadcast RF tested the 4KRF system from a helicopter circling over London to obtain what is reportedly the world's first ever live aerial video in 4K. Footage from the tests will be available to view at IBC, along with the Sony F55 4KRF hand held camera system.
Broadcast RF's 4KRF system is based on the new UtraCoder HEVC/h.265 encoder from Vislink. The system accepts 4K/UHD streams on a Quad 3G-SDI input. While other approaches use four separate encoders/modulators to individually encode and transmit each quadrant of the UHD picture, the 4KRF system processes the entire 4K picture through a single encoder/modulator chain, thus increasing encoding efficiency and eliminating any possible synchronisation issues between the individual quadrants.
Thanks to the highly efficient HEVC/h.265 encoding technology, the 4KRF system manages to deliver incredibly detailed UHD pictures over the same channel bandwidth as an ordinary HD radio camera (10 MHz).
The system mounts to the back of a 4K camcorder such as the Sony F55 like any other radio camera transmitter and includes full Sony RF camera/paint control.
"We set ourselves the goal of staying ahead of the market for live wireless broadcasts," comments Broadcast RF's sales director, Chris Brandrick, "and the major broadcasters will be looking to introduce 4K in the coming months. Although 4K video image is four times the resolution of High Definition, our engineering team had already prepared the system, so that we were ready to integrate the UHD encoder as soon as it arrived. The system worked first time in tests and performs very reliably, so it is ready to hire from now."
Robert King, regional sales manager – Europe at Vislink, adds: "Broadcast RF handed us our first purchase order for the Vislink UltraCoder during the NAB show back in April 2015. Having received the final product in late August, they have since adapted our ground breaking HEVC/h.265 based UltraCoder into a fully functional 4K radio camera system for the Sony F55. We are very pleased to be chosen by BRF as their supplier, and it gives us great confidence that Broadcast RF will utilise our 4K capable Ultracoder as part of their fully integrated 4KRF system on some of the world's finest sporting events."
Visitors to IBC will be able to see the detail obtained from the world's first aerial 4K downlink system, along with the equipment that made this possible.