Broadcast Solutions delivers new HD OB van to Bayerischer Rundfunk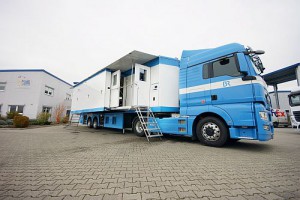 Starting in 2010, German public broadcaster Bayerischer Rundfunk has undertaken then modernisation of its infrastructure from SD to HD. As part of this conversion process, Broadcast Solutions GmbH has been commissioned to build the new BR FÜ2 OB van.
The OB truck specialist from Bingen delivered the 8-camera van to the customer at the end of 2014. The BR FÜ2 has since then been used in various productions, including the ski-jumping World Cup in Lillehammer, the 4-Hills Tournament in Garmisch-Partenkirchen, the G7 Summit 2015 (at the press centre in Garmisch-Partenkirchen), the Queen's visit to Berlin, and productions for the famous Waldbühne in Berlin (in 5.1 audio).
The BR FÜ2 with its five comfortably-sized areas provides enough space to even manage large productions in a relaxed way. Specifically, the areas are production, slow motion, VTR/slow motion, vision control and sound/intercom. All hardware to be controlled is located at the rear of the trailer in centralised equipment racks.
Built as a trailer-based OB van, BR FÜ2 can be operated with up to 12 cameras. Ex-factory, the vehicle is equipped with 8 Sony HDC-1400 cameras, including Fujinon lenses. In the production area, a Sony MVS-7000X is used. The monitor wall is equipped with Sony PVM and VTS TFTs. The monitor wall in turn is controlled by an Evertz multiviewer system VIPX-6867. For routing an Evertz EQX 576×576 is deployed. The set-up also includes three EVS XT3 systems for super slow-mo.
Digital glue equipment consists of, among others, Lynx 5000 and Lawo V__pro 8. In the vision control area Tektronix SPG-8000 and WFM-5250 devices are in use.
The spacious audio area in BR FÜ2 provides a Lawo mc266 mixing console including a Lawo core with Dalli frames that can handle up to 512 channels summarized. For intercom, Broadcast Solutions and Bayerischer Rundfunk rely on a Riedel Artist system (128 x 128) with wireless talkback by Motorola.
The complete control within the OB van is realised using the VSM system from L-S-B Broadcast Technologies.
"The BR FÜ 2 is one of the bigger OB vans Broadcast Solutions delivered. The customer Bayerischer Rundfunk put the highest requirements on the quality and flexibility of this production tool. We are very pleased that – in close connection with the customer – we were able to develop a highly flexible and innovative vehicle, [and also] in the shortest time. It enables our customer to manage the most diverse productions easily," says Stefan Breder, managing director at Broadcast Solutions GmbH.