Broadcast Solutions delivers second VAR van to Association of Football Federations of Azerbaijan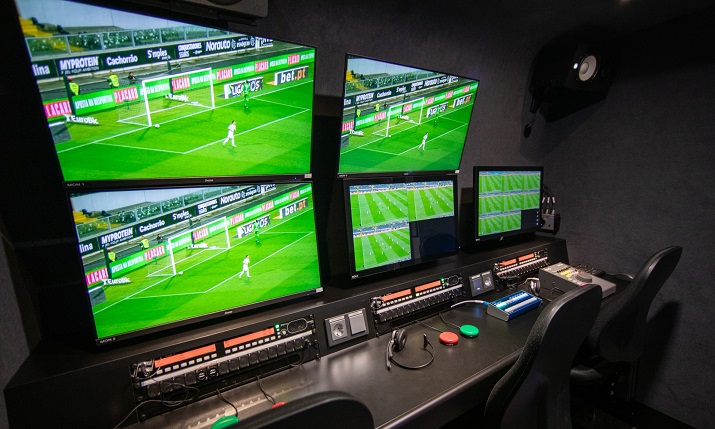 Broadcast Solutions has delivered another mobile video assistant referee (VAR) unit to the Association of Football Federations of Azerbaijan (AFFA).
AFFA's first VAR system was implemented in 2022, designed and delivered by Broadcast Solutions. With the addition of this latest unit AFFA has been officially certified for VAR by FIFA.
The initial system consists of three VAR operations rooms, permanently installed in the
stadium in Baku, along with a mobile VAR system in a 3.5 tonne van. Now, Broadcast Solutions has delivered another mobile VAR unit to AFFA to complete the project's first phase.
The mobile VAR systems are necessary to connect stadiums that are too far away from the VAR hub in Baku, or do not have a dedicated fibre optic connection to the nationwide VAR system.
President of the Azerbaijan Professional Football League Elkhan Samadov said: "We are pleased to have even more VAR systems at our disposal to ensure that all future matches are conducted as fairly and comprehensibly as possible."
The VAR unit, now handed over to AFFA, has been realised as a van with a total weight of no more than 3.5 tonnes to ensure unrestricted driving availability.
Three workstations are available in the van for a video referee, a video referee assistant and a replay operator. The van also carries the 'review area' flight case system, consisting of a monitor plus stage box, which is set up on the sidelines of the match. The referee on the pitch uses this system to review decisions and communicate with the video referee in the van.
Audio technology from AEQ is installed in the van to distribute the audio signals and intercom communication. The replay operator uses EVS' Xeebra multi-camera review system, which is equipped with AI technology to automatically calibrate the field of play and create a realtime virtual offside line.
The EVS Xeebra system can process up to eight video signals per match. For signal routing, both partners opted for KUMO systems from AJA. Radio systems with headsets from Vokkero are used for communication between the referees on the field and the video referees.