Broadcast Solutions GmbH to showcase Robycam support of 4K cameras at Broadcast Innovation Days event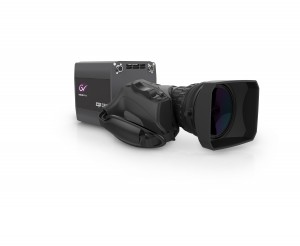 Broadcast Solutions GmbH has announced that cable camera system Robycam is now available with compact 4K cameras. Visitors to the Broadcast Solutions Innovation Days event in Bingen this Thursday (June 1) – which has been organised in conjunction with SVG Europe – will have the chance to see the system in action together with a Grass Valley LDX C86N camera plus Canon CJ12x4.3 optics.
At the event Robycam will be installed with full function in the newly added hall 3. Broadcast Products, a division of Broadcast Solutions, is offering the Robycam system for sale and rental. As part of a series of events Broadcast Solutions hosts a Broadcast Innovation Day (June 1) at their headquarters in Bingen, Germany. The one-day event will comprise the largest number of OB Vans in production in Europe, exhibitions, panel discussions, product presentations as well as networking events and is the place to be for all broadcast industry members to inform about the latest technology in broadcasting. People can still register for the event at www.broadcast-innovation-days.com.
Robycam is a 3D camera system consisting of two elements. Gyro-stabilized camera dollies, which make 1-2D or 3D camera movements possible, and cable camera systems, cranes, sleighs or rails. Together with a powerful remote control, the systems produce spectacular images. During Broadcast Innovation Day the company will present a Robycam 3D system that allows for 360° movements in all axes. At the event the system is equipped with Grass Valley's LDX C86N, a native 4K/UHD (3840×2160) compact camera that works as a self-contained camera system with no need for additional base station or external processing unit. The largest Robycam 3D system is ideally suited for large indoor or outdoor events. It uses four real-time controlled automatic winches and a sophisticated motion control system that allows fast camera movements up to 8 m/s and with millimetre-accuracy in all axes. With its transmission power action radiuses of up to 250m x 250m and more are possible.
Together with an OCP the Robycam control unit has full access to all camera and lens functions.