Broadcast Solutions new UK office off to flying start
Broadcast Solutions' new UK office has been opened to extend the systems integration capabilities of the German company into the UK and Northern European markets. The company plans and implements projects in all broadcast and content related areas, from OB vans and wireless and satellite communication to studio, playout, remote production, MCR broadcast facilities and sports arena multimedia solutions.
After 15 years working across Europe from its German base, the company opened a UK office in Basingstoke earlier this year, pushing its total global offices up to 14. The new team includes Southampton University lecturer, Ilona Valent, as technical manager. The office is approximately 1,900 square feet, suitable for small scale system builds, while larger scale installations will be managed through the German Bingen factory or through rented premises locally.
Broadcast Solutions decided to move into the UK for two key reasons, according to Antti Laurila, the managing director at Broadcast Solutions UK: great people and business potential. He commented: "People come first of course. System integration is all about the people and when we saw a chance to get some great people on board, we utilised this momentum. We believe that the right local team and our good reputation in the European market will bring business. The broadcast market in the UK is one of the biggest in Europe and we were not present here, although we were covering more or less the whole [of the] European market. So of course, it was tempting to come here too."
Brexit is not a concern for the group or its new office. According to Laurila, the prospect of the turmoil that Brexit is causing now and will continue to cause is not bothering this company. Laurila said: "We are here to help our clients in broadcast technologies and that will be the case regardless of what happens with Brexit."
The main aim of opening this office is, said Laurila, "To do business of course". He went on: "The broadcast market in the UK is big and we see a lot of potential for an experienced system integrator like us who can utilise our expertise from international projects and knowledge of the latest technologies with a local flavour provided by our local team. Also, the UK team will play a vital role in our international business too by bringing knowledge from the UK broadcast market to our international projects. So bi-directional relationships are important."
The team is currently working on making itself known in the UK market. Laurila commented: "The first thing is to get clients to know that we are now here, who we are and that we are ready to help them in more or less anything related to broadcast technologies, not only just manufacturing OBs as people typically think. We have broad knowledge of different systems integration projects, especially in remote production and IP-based systems."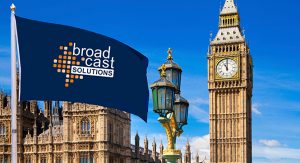 Laurila has lived in London for almost three years working as CEO and managing director for the Finnish-Russian broadcast system integrator, Qualitron. Previously he managed and built international teams for Nokia Networks. He noted: "I had similar expertise [to that required for Broadcast Solutions] from other countries so of course it was an interesting task for me to build a team and start running our business here [in the UK]. At the moment I am also managing our business in Finland, which we established two years ago, and heading our sales globally."
The team under Laurila consists of: Malcom Robinson as business development manager; Ashley Cochrane as sales manager; Sam Bibby as solution architect; Francis Lea as commercial bid and supplier manager; and Valent as technical manager.
On his new team, Laurila said, "I am really happy with the team that we have managed to get on board here so far". He went on: "Our success is based on our people and their expertise. We have very talented team with great expertise and chemistry in the team is good. I believe that this positive spirit will reflect to our clients too. Business should be fun and we are definitely enjoying it and are passionate about what we do."
Valent has over 18 years' experience in broadcast, having worked with both equipment manufacturers and systems integrators. Previously, Valent was solution architect at Ross Video. Valent also lectures at Southampton University for its Media courses and is familiar with the opportunities these solutions can offer.
Valent said: "I'm very excited to join Broadcast Solutions. It's such an honour to be chosen as part of the start up team of the new UK office at one of the largest system integrators in Europe. This is a very rare opportunity in someone's career to be there from the beginning and contribute shaping and growing a business, especially if it is such a well established and forward thinking systems integrator, with engineering and innovation at heart.
"We have a fantastic team in our Basingstoke office, all with wealth of experience and expertise in their own field that covers every aspect of our current operation," Valent continued. "I am covering both pre-sales and post-sales technical services in the beginning and looking forward to expanding the team in the future to provide exceptional partnership, service and support to our clients with our products and system solutions."
Valent added that many of her former clients, colleagues, as well as friends in the industry know that her particular technology interests are, "routing, infrastructure, control and connectivity both for OB and studios". She noted: "Broadcast Solutions have some own product as well, such as 'hi' (Human Interface), which is an intuitive control software, a real link between human users and broadcast technology; I can't wait for us to start working with the product and be able to offer it as part of our comprehensive solution offering."
Looking ahead, Laurila said: "We have now very good core team and we look growth through projects. We can grow, but that's not obsession and we can always utilise our international resources in the group too. Time will show."
Broadcast Solutions UK is involved with multiple projects both in the UK and abroad as a part of its international project team. Its priority at the moment is to bring its next generation broadcast control system, Hi, to the market and educate clients on how they can benefit from it, making a smooth transition from baseband to IP with it. Concluded Laurila: "Feedback we received so far have been really positive and I am sure real breakthrough for Hi is coming this year."