Broadcast Solutions preps new Streamline S8 4K OB van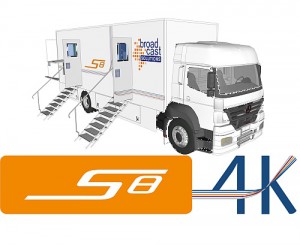 Broadcast Solutions GmbH will show the new member of its Streamline product family of OB trucks at IBC 2015 in the form of the Streamline 4K OB Van. For the first time Broadcast Solutions combines the field-proven concepts of the Streamline family with 4K technology, enabling customers to be prepared for 4K productions.
The Streamline product family consists of pre-engineered OB Vans that come in five different versions: 4 to 16 cameras. All Streamline OBs are pre-engineered and nearly "off-the-shelf" OB vans that can be delivered within a short period of time and with significant cost-savings, says Broadcast Solutions.
At IBC 2015, Broadcast Solutions will show the first 4K member of the Streamline OB Van family. The Streamline S8 4K is a compact, self-driving and fully functioning OB van with up to 8 cameras that is capable of working thoroughly in 4K.