Broadcast Solutions provides production support for Tour d'Azerbaidjan coverage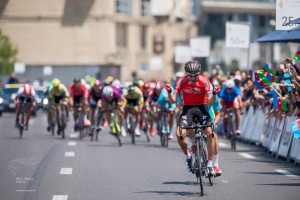 Tour d'Azerbaidjan is an international bicycle race that takes place annually in Azerbaijan and is part of the UCI Europe Tour. For the third year in a row German systems integrator Broadcast Solutions provided the local broadcaster with both technology and personnel.
Over the years Broadcast Solutions has supported the local production company Baku Media Center with production vehicles – in particular, a Streamline S16 OB Van and DSNG, built by the German company – plus production support with camera motorcycles, helicopters and planes, special camera systems, as well as additional staff to support Baku Media Center during the production.
In 2016 Broadcast Solutions again played a big role, taking care of all the logistics providing the camera motorcycles, Cineflex camera systems, and key creative and technical personnel. For the third year in a row Broadcast Solutions offered production support to local broadcaster Baku Media Center during the coverage of prominent bicycle race Tour d'Azerbaidjan, part of the UCI Europe Tour, which took place in May 4 to 8 across four stages in Caucasus and the final stage in the capital Baku.
The delivery of an OB Van and a DSNG to broadcaster Baku Media Center in 2014 marked the beginning of a close relationship between the two companies. In addition to delivering the live production vehicles to Baku Media Center, Broadcast Solutions trained the OB van personnel and regularly supports the customer during the production of major events.
At this year's Tour d'Azerbaidjan, for the third time the company backed Baku Media Center with specialists, know-how on the hardware side, and on the production itself. With this support, the local broadcaster was able to use the OB Van and DSNG in the best possible way. Broadcast Solutions supported the production with a team of engineers and director, specialised in bicycle races, such as Tour de France or all bicycle sports during the Olympics. For instance, for the live wireless aerial video transmission additional measures, such as motorcycles and an airplane (2015), were put in place. A specialist team covered the race via a helicopter with a Cineflex camera system.