Broadcast Solutions schedules innovation showcase events in Asia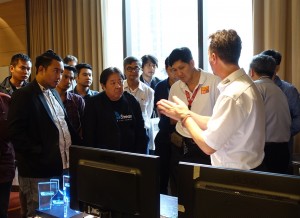 This October and November leading systems integrator Broadcast Solutions GmbH, together with industry partners, will showcase a wealth of new technologies during two Broadcast Innovation Days events in Asia.
As the latest in a row of successful events the German system integrator held all over the world Broadcast Solutions will host two events, one in Jakarta (31 October) and one in Hanoi (3 November). Partner companies to join the events include Riedel, IHSE and Zenon Media.
The schedule for the events is as follows:
9:30am Morning Coffee
10:00am Broadcast Solutions – Streamline OBs and innovative products
A general presentation of Broadcast Solutions and the extensive portfolio of the company's solutions and products. In focus will be the new range of cost-effective, field-proven "Streamline" type of OBs that range from 4 to 16 cameras. The Streamline approach is a success story of how to transform and simplify the OB market. A further topic will be the innovative and cost effective range of products from innovative multichannel and replay servers slomo.tv to software based solutions, as well as Satcom antennas and Robycam stabilized rail and "flying" camera systems.
10:45am Coffee and Demonstrations
Use a short break to stretch your legs, have a drink or visit the product demonstrations.
11:15am IHSE – Streamline the Broadcast Workflow
In today's fast-paced broadcast environment, the ability to instantly access essential equipment is crucial to every great transmission. IHSE Draco tera KVM switches allow operators, engineers and producers to manage any device from any workstation, delivering greater flexibility, increased efficiency and enhanced system security and reliability. Broadcast studios, OB vans and post production facilities around the world rely on Draco tera switches to connect and control vital equipment.
12:00am Lunch and Demonstrations
1:30pm Riedel – Modular Production: De-centralized
Today's production environments require agile and efficient systems to allow them to adapt to a wide variety of production challenges. With its de-centralized routing capabilities, MicroN has the power and flexibility to build such systems. The newest member of Riedel's MediorNet family, MicroN features easy-to-use configuration options that provide increased reliability and versatility. On-board signal-processing includes frame synchronization, embedding/de-embedding, and delay. With scalable routing solutions and the ability to handle even 4K production workflows, MicroN-based systems are future-proof as markets migrate towards fully IP-based production environments.
2:15pm Zenon Media
Learn how a modern radio automation system simplifies your daily work in a radio station. From import and management of all the data (audio, metadata, but also any side meta's like pictures and videos), it's reasonable and efficient combination to a playlist, of course the playout on multiple channel broadcast layers up to statistics and reports, like royalty reports or commercial/advertisement reports. Also you will have a look into the visual radio concept, an innovative addition to you radio channel for mobile apps or internet.
3pm Coffee and Demonstrations
Use a short break to stretch your legs, have a drink or visit the product demonstrations.
3:45pm Slomo.tv – Innovative slow motion and replay servers
Learn about slomo.tv, the world's most innovative manufacturer of cost effective slow motion and replay servers as well as video referee solutions. Slomo.tv is a specialist in producing scalable, user friendly and cost effective servers that – of course – are 4K ready.
In the display area you will find the complete product portfolio and can participate in in-depth presentations. Visitors will get hands on experience to use the slomo.tv server to learn how the company has de-mystified the use of a professional multichannel replay and slow motion servers.
4:30pm Case Studies/Products in use
With selected case studies the hosting companies show how and where the products are already in use and how the users benefit from them in many ways.
5:30pm After Work(shop)