Broadcasters reveal major event programming for European Championships 2018
Thanks to a partnership brokered by the EBU more than 40 broadcasters will be covering the inaugural European Championships, delivering in excess of 2,700 hours of live coverage.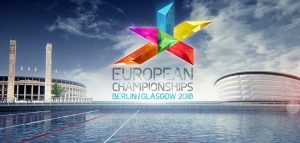 The European Championships is a major new multisport event taking place every four years, which aggregates the existing senior continental championships of Athletics (European Athletics), Aquatics (LEN), Cycling (UEC), Gymnastics (UEG), Rowing (FISA), Triathlon (ETU), with a new Golf Team Championships (ET & LET) – all unified under a common brand. Athletics will take place in Berlin from 7-12 August, while athletes from the other sports will compete in Glasgow 2-12 August.
The vision for the event is to create a must-watch, must-attend experience that elevates the Champions of Europe during an 11-day celebration of sport and packed 10-day broadcast schedule.
The EBU and Eurovision Media Services will act as both the broadcast partner (representing European public service media) and the Host Broadcaster (overseeing the overall production of the event). EMS will also distribute the event to media organisations for TV and online platforms.
Millions of sports fans across Europe and Worldwide will be able to enjoy the inaugural European Championships from Berlin and Glasgow on television, radio and online.
Broadcasters showing the European Championships will include ORF, RTBF, VRT, HRT, PIK, Ceske Televize, DR, ERR, YLE, France Télévisions, France 2, France 3 and France O, ARD ZDF Germany, BBC, ERT, MTVA, RUV, RTE Ireland, Rai, LTV, LRT, NRK Norway, NOS, TVP, RTP Portugal, TVR, Match TV Russia, RTV Slovenia, TVE, SVT, Channel 4 Sweden, SRG SSR and TRT in Turkey. Eurosport is the pan-European and Asia Pacific broadcaster.
Audiences in many territories are being offered over 100 hours of coverage of all seven sports across the ten days of televised competition and the Championships are on track to captivate a potential TV audience of over a billion sports fans with countless more across news, radio and digital platforms.
The broadcasters of the host nations, the United Kingdom and Germany, have promised fans are in for a feast of sporting action.
BBC United Kingdom
The BBC will provide extensive coverage daily across TV, radio and online of all seven sports with over 100 hours of network television coverage planned for the Championships.  Top presenters Hazel Irvine, Clare Balding and Gabby Logan will lead the TV coverage across BBC One and BBC Two, with both channels showing up to twelve hours of coverage a day combined, allowing audiences to truly immerse themselves in the sporting spirit.
The expert commentary line-up includes Sir Chris Hoy, Dame Jessica Ennis-Hill, Rebecca Adlington, James Cracknell OBE and Beth Tweddle. This will be accompanied by extensive daily coverage on BBC Radio 5 live and a full digital offering, including video streams, highlights, on demand clips, a dedicated live text page and news stories on the BBC Sport website and app.
A HD video stream will also be available, offering alternative live action and long form highlights of outstanding finals on BBC Sport Online via connected TV or mobile and BBC iPlayer.
ARD and ZDF Germany
In Germany ARD and ZDF are co-broadcasters of the Championships, with coverage on alternating days featuring all seven sports.  ARD's 'Das Erste' will broadcast live from the Championships with comprehensive coverage from all the different venues, meaning up to almost 13 hours coverage per day, plus up to three livestreams accessible on sportschau.de and on the HbbTV-App, together with coverage on social media. In addition, various ARD programmes will feature daily highlights across sports and news coverage.
ZDF's full daily coverage from Glasgow will be led by Rudi Cerne and from the Berlin Olympic Stadium Norbert König will be presenting the athletics broadcasts. Expert ZDF commentators include Michael Schrader (athletics), Christian Keller (swimming) and Ronny Ziesmer (gymnastics) who will share their expert knowledge with audiences. In addition to the extensive airtime on ZDF, ZDFsport.de offers up to three parallel digital livestreams from the Championships. These will also be available via HbbTV.
These examples give a taster of what audiences can expect with extensive coverage planned all across the continent including the Nordic region and Eastern Europe as well as in Asia, Latin America, North America and Sub Saharan Africa, with over 40 broadcasters covering the Championships across Europe and worldwide.
Stefan Kürten, EBU Director of Sport said, "it is very exciting for everyone to see how the broadcasters will be bringing the European Championships to life for their audiences. The quality and volume of dedicated coverage that will be available free-to-air for fans is outstanding. We are very proud that, together with our network of member broadcasters and partners, we have facilitated this level of exposure for the first-ever multi-sport European Championships. This is a historic milestone in the promotion and broadcasting of key Olympic sports in Europe and ensures that millions of fans will have the opportunity to experience sport at its very best."