BSE recovers from trail derailment, delivers kit for Euro 2012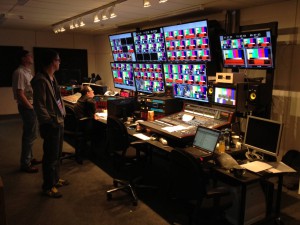 When broadcasters and their technology partners build out their facilities for an event like the UEFA 2012 Euro Cup there are two primary goals: ensure kit arrives early enough so that it can be set up properly and then make sure the technical team and related vendors are on hand to deal with any emergencies.
Occasionally, however, there can be wrinkle. Broadcast Systems & Equipment (BSE), a Canadian systems integration company, had wrinkles and more when a train that was carrying technical facilities bound for Euro 2012 was destroyed in a train derailment during the first week of April.
Gavin Romanis, managing director of BSE, received the call while at his home in Sydney, Australia, and in the days and weeks that followed, the BSE team consisting of business partners Joe Scrivo, Stephen Aitcheson, Jim Eady, Gavin Romanis, staff, ex-staffers, and equipment vendors came together to make sure the story had a happy ending.
"The train derailed and everything we built was written off," recalls Romanis. "Thankfully we had a hot spot on it so we would be notified if anything happens."
The good news, says Romanis, is there were still six weeks until the client, the BBC, needed the kit in Warsaw for installation at the IBC. The bad news was would all of the vendors be able to respond in time to rebuild the kit and transport it again from Calgary?
"We gave ourselves 12 hours to contact all 33 manufacturers of the products we needed to rebuild the facilities," he recalls. "And if we got a positive response we would rebuild a carbon copy. Within 12 hours we had contacted all 33 companies and 32 said they could help us." The cooperation of the vendors, as well as some ex-staffers who came back and helped make the integration project a near 24/7 operation, helped BSE avoid having to use fly packs.
"That would have been the easy thing to do but then the client has to change their production and that isn't fair."
During the second round of integration work the BSE integration team grew from three to 14 to rebuild the wired racks, install equipment, and get it ready for the final trip via air to London and then via road from London to Warsaw.
"It was really a combination of luck and being in the family industry we all work in and love" says Romanis of the team effort of vendors, current and ex-staffers alike. "It was a Herculean effort by the engineering staff that worked two shifts. It's incredible to sit back and think 'wow, we did it,' but it is only because of the incredible support the industry has for one another."