BT Media & Broadcast enhances UHD portfolio with NTT and Garland
Live UHD TV OB delivery specialist BT Media & Broadcast has expanded its capacity by adopting NTT Electonics' HEVC technology, with the assistance of Garland.
BT's Media & Broadcast division provides video, audio and data transmission solutions to those transmitting content. It supports the digital workflow needed to get content from the camera to the viewing or listening device.
Its extensive, high-capacity fibre network connects stadiums and other venues around the UK. At top-tier venues, the network capacity lets BT deliver uncompressed UHD.
However, to offer its UHD services universally at venues with lower-capacity fibre, or no fibre at all, BT has adopted HEVC capability. This lets the team deliver the highest quality UHD services via more cost-efficient use of lower bandwidth.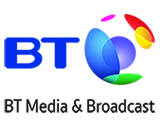 BT has chosen to expand UHD delivery capacity by adopting NTT Electronics technologies, with the assistance of digital video solutions provider Garland. As part of that workflow, it was looking for an efficient way to deliver UHD and HD services over satellite and IP for onward delivery through BT's global media network. The solution presented by Garland was to adopt the use of NTT Electronics UHD HEVC encoders and decoders.
"The best choice was NTT Electronics' HEVC HC11000 series," said Lorna Garrett, commercial director of Garland. "They provide superior quality and performance using NTT Electronics' cutting edge LSI, delivering UHD HEVC up to 200 Mbps with only 120ms of end-to-end delay."
"Building HEVC capability into our portfolio allows us to deliver additional UHD visions at lower bandwidths," said Dominik Wrona, head of TV Outside Broadcast Services at BT's Media & Broadcast division. "This is of particular benefit for venues that require satellite transmission.
"As well as providing exceptionally high picture quality and bandwidth efficient video performance, NTT's solution also supports High Dynamic Range (HDR) and Dolby Atmos. It lets us continue to be at the cutting edge of outside broadcasting, providing broadcasters with the services they need to deliver great content to audiences worldwide."