BT Sport and LiveLike trial VR in London retail outlets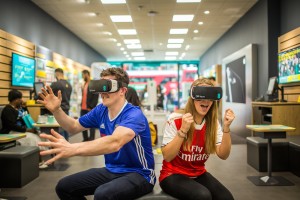 Football fans were able to experience last weekend's Premier League football clash between Chelsea and Arsenal live in Virtual Reality in four flagship EE stores in London, as part of a new BT Sport trial. BT Sport filmed the game using Virtual Reality (VR) cameras and is working with LiveLike, a VR platform company that allows broadcasters and sports teams to deliver immersive viewing experiences, so fans can choose from four different viewpoints. They could also experience the game as if they are pitch-side or sitting in the crowd, watching the two London clubs battle it out.
The four participating EE stores are: Westfield Stratford, Oxford Street, Marble Arch and Tottenham Court Road. The match kicked off at 5.30pm on Saturday 24 September and was shown exclusively live on BT Sport. VR headsets and tablets were available in each store for fans to use during the match.
Jamie Hindhaugh, COO BT Sport, said: "BT is delighted to be bringing fans even closer to the action. We hope fans enjoy experiencing all the highs and lows of a football match via Virtual Reality. Fans and viewers are at the heart of our coverage and this is a great opportunity to experience this innovative new technology live in four of EE's top London stores."
Marc Allera, EE CEO, said: "We know that our customers love watching sport on the go and that's why they love the fact they can now enjoy the BT Sport app as part of their EE plan.  This fantastic VR trial of BT Sport in four flagship London stores is yet another example of the additional benefits and unique experiences our customers will enjoy now we are part of the wider BT Group."