BT Sport complex features Avid, Aspera, Calrec, Sony and more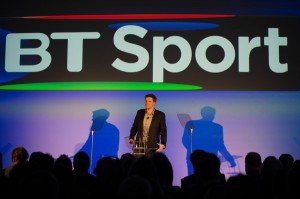 BT yesterday (9 May) unveiled its new sports channels and gave a preview of the studio complex being built to host presentation of Premier League football, Premiership rugby union, WTA women's tennis and Moto GP, among other sports. BT Sport 1 and 2, along with the recently acquired ESPN channel plus HD versions of all three services, will be broadcast from iCITY on the Queen Elizabeth Park in east London.
Full details of BT Sport's line-up and how viewers will be able to receive it were announced at an event hosted by Jake Humphrey and Clare Balding, two of the big name presenters to have joined to the new service. Humphrey, who most recently fronted the BBC's Formula 1 coverage, joked that the announcement was the biggest sports news of the week, a reference to the previous day's publicity given to Sir Alex Ferguson confirming he is to retire as manager of Manchester United.
Humphrey will anchor BT Sport's Premier League coverage, which has 38 live matches, including the first game of the 2013-14 season on 17 August. Balding also made her name on the BBC but is now the lead presenter for Channel 4 Racing. She was also involved in broadcasts from both the London 2012 Olympics and Paralympics and will present a weekly magazine chat show on BT Sport.
Describing the launch of BT Sport as "the most exciting thing to happen to sports broadcasting in the UK for 20 years", Humphrey said the new service would give sport "back to the people". This was a not-so veiled reference to Sky Sports, which charges subscriptions for its satellite-delivered channels.
As an alternative to this BT Sport will be available free to BT broadband customers. Those who do use BT for internet connectivity will be able to receive the services through the Sky digital satellite platform at £15 a month for HD or £12 a month SD. An app will allow BT Sport to be received on smartphones and tablets as well home PCs. The channels will also be part of the YouView digital hybrid service launched last year by the BBC, ITV, Channel 4 and Channel 5.
Non-BT customers are being encouraged to switch with low price deals for Infinity, its high-speed fibre broadband product. John Petter, managing director of BT Retail's consumer division, denied the new sports service was a "loss leader" to increase the company's user base but the general feeling within the industry that it is a way for BT to sell more broadband and fibre connections. Simon Green, head of BT Sport, said viewers had to be given a reason to change services and that the sports offered by the new channels would do that.
BT underlined its commitment to the Sport channels, with executives saying this was a "long-term investment". A major part of this is the new studios facility being built into part of the former London 2012 Olympic International Broadcasting Centre. BT Sport will take up 80,000 square feet with two main broadcast studios and accompanying control galleries, Avid Symphony edit suites, a dubbing theatre with Pro Tools HD X and a 32-fader D-Control desk, a QC suite featuring an eight-channel D-Command controller and eight voice booths.
The main production area will feature approximately 170 desks, with producers and other staff able to access material using IP Director browsers. Andy Beale, chief engineer at BT Sport, said the operation has 200 IP browse licences, with material coming from a 1PB MediaGrid SAN. This is mirrored at BT Tower in central London for full redundancy, with all file delivery made using Aspera high-speed transfer technology. Ingest, recording and playback will be on 32-channels of EVS, including eight XT3s, plus XS machines solely for ingesting material.
The studios are to be equipped with Sony HDC-1500 cameras, with Sony MVS-7000X production switchers in the main galleries, plus side mixers for the on-set video screens, and MFS 2000s in the smaller control areas. The audio control rooms feature Calrec desks, with Wisycom wireless microphones and in-ear monitors for the on-air presenters.
The BT Sport studios are due to be completed by the end of July and SVG Europe will return to the subject in the near future to report more fully on the technology being used. Announcements are also expected soon on the OB company that will provide location facilities for both the Premier League football and Premiership rugby coverage, plus how HawkEye feeds will be incorporated into live broadcasts.