BT Sport launches Watch Together ahead of time to bring people together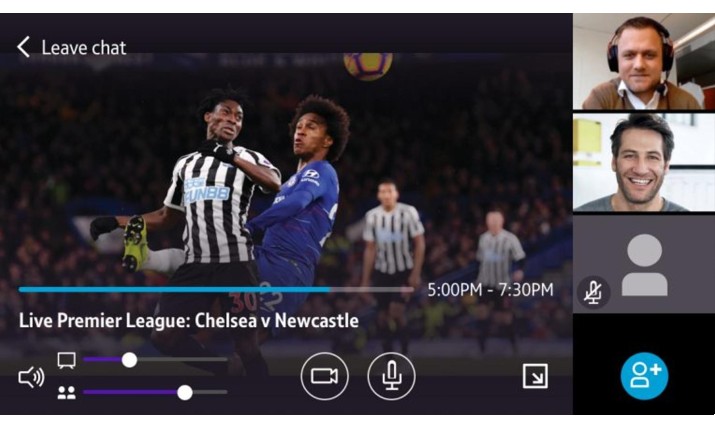 BT Sport has launched a beta version of its new Watch Together virtual experience. The enhancement, which is available on the BT Sport mobile app, was added on Saturday 20 June and is designed to allow friends and families to view games together in an online environment.
The move coincides with the return of the Premier League where all matches are being played behind closed doors.
The broadcaster brought the launch of Watch Together forward as it saw the potential value it could bring to people who have not been able to spend time together since lockdown began, to share their passion for football, and who cannot attend games in person with friends or family.
SVG Europe was able to try out Watch Together and found it to be an exciting and easy way to connect with people during a live game.
Last week SVG Europe spoke to Jamie Hindhaugh, chief operating officer at BT Sport, about its plans for Premier League coverage behind closed doors. Hindhaugh said the development would be available, "in the next few weeks", yet it seems BT Sport has surpassed its own expectations by speeding the delivery of Watch Together to just a few days.
Watch Together is part of an internal strategy bought over from EE by Matt Stagg, director of mobile strategy at BT Sport, who was formerly head media and entertainment at BT owned mobile operator, EE.
Watch Together comes from the winner of the 2018 BT Infinity Lab competition, Sceenic. It makes it possible for people to watch live sport on TV and have up to four friends in video feeds alongside the game, set up so you can watch together, see and interact with each other on screen.
In SVG Europe's recent interview with Hindhaugh on its Premier League coverage and how BT Sport is working to make life better for fans of football during lockdown and social distancing restrictions, he said: "What we've decided to do, because [Watch Together] is still in development, is bring it forward as beta trial. So it will be available early in the Premier League [resumption of matches].
"What we're trying to do is reflect the situation we're all in; you can't go to a game, you can't meet up with your friends."
All invitees to a 'Watch Together' must have a BT Sport subscription to take part.
The feature is available on the BT Sport app on iOS and Android devices but not currently on the large screen BT Sport app which covers Samsung smart TVs, Sony PlayStation, Xbox, Apple TV and NOW TV devices.