BT Sport's Matt Stagg says fan engagement is key to broadcaster success
BT Sport has reiterated its commitment to improving the viewer experience over all devices with the recent appointment of Matt Stagg as its director of mobile strategy.
Stagg, who was previously head of mobile video and content at BT Group-owned mobile network provider EE, is now responsible for developing BT Sport's mobile capabilities.
BT Sport has seen huge growth in the popularity of its mobile platform in the last two years, accelerated by the close tie-up with EE.
From an internal point of view, BT Group is in a unique position in the British market, Stagg told SVG Europe.
"We want to leverage our investment in sport and our investment in the mobile network," he said.
"We're the only sports broadcaster to have its own mobile network as part of the Group, and vice versa. The key is combining aggressive sports coverage with a big mobile network and being able to use your knowledge of mobile technology to enhance fan engagement. We need to use all the tools in our toolkit to drive new technologies, and we can do that because we have these combined resources."
The increasing number of viewers watching sport from their mobile devices is, in turn, increasing BT Group's focus on the area. "There is a growing market of people watching sport on their phones and we need to understand what we can do to meet their needs, both those that are streaming now and what we can do next using new smartphone and device capabilities to increase the experience of BT Sport," said Stagg.
He continued: "Our number one focus is ensuring we give the consumer the optimum experience when viewing sport. Live sport drives mobile content consumption, and it also has the toughest requirements on mobile networks, driving them in ways we just don't see from other traffic. It puts peaks on mobile networks that other content doesn't because it's live. You don't get a second chance with sport on mobile; missing a goal isn't like missing a couple of seconds of your on-demand favourite series that you can just rewind. And sport is fast-moving, so a reduction in resolution from HD to SD of the match is going to be noticed a lot more in sport."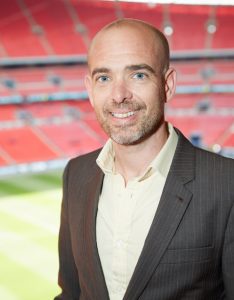 On his appointment to BT Sport, Stagg said: "It's not a change of focus but it shows we're increasing our focus on all things mobile. We want to make sure mobile provides a fantastic experience for BT Sport viewers.
"I've specialised in sports coverage over mobile at EE, and we at BT Sport want to ensure we are covering it from a consumer-first view, rather than a technology-first view. As part of that goal, I have moved to BT Sport to ensure we can provide the best experience on streaming and the best mobile experience, for customers," he continued.
Although now based at BT Sport, Stagg is retaining overall control on BT Group's 4G and 5G strategy for media and entertainment, so EE has not lost his expertise. "I'm working on the evolution of 5G within our industry to ensure we have the correct experience in place for viewers over mobile networks in the future," added Stagg.
Stagg is the founder and Chairman of the Mobile Video Alliance and co-founder of the LTE-Broadcast Global Alliance.