BT Sport's Watch Together now available for all on BT Sport app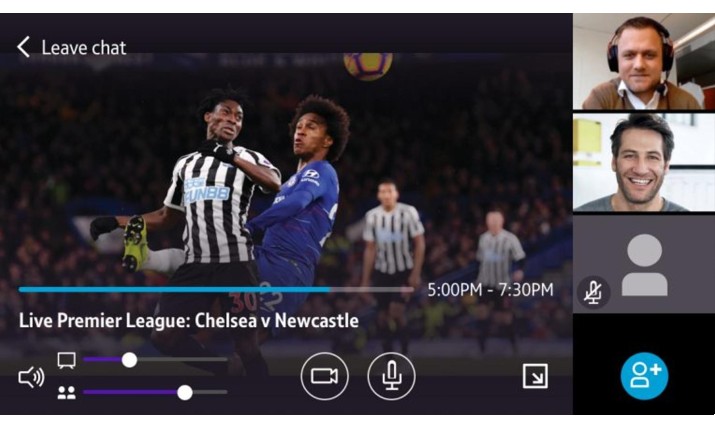 All BT Sport customers are able to enjoy Matchday Experience on the BT Sport app for the first time from this week.
With sports fans currently unable to watch live sport in stadiums, Matchday Experience is a collection of immersive and innovative viewing features that enables fans to get closer to the action.
Launched earlier this season to select BT Sport customers using iPhone or iPad devices, Matchday Experience offers fans sports viewing features not available anywhere else. From 2 February, these features will become available to all BT Sport customers, with accessibility for the first time via Android mobiles and tablets building on existing Apple device availability. Feature availability varies by device and content.
Jamie Hindhaugh, chief operating officer, BT Sport, said: "These new features build on the BT Sport app's reputation for providing the UK's ultimate sports viewing experience. At this moment of social distancing and crowd-less sport, Matchday Experience gets fans closer than ever to the sports they love. We are proud to continue giving our customers even more ways to watch and experience sport, such as the ability to watch live with three friends and the chance to be at the stadium through groundbreaking augmented reality."
Matchday Experience features include:
Watch Together – which allows fans to watch, see and chat with three other friends, alongside any BT Sport broadcast, thanks to a split-screen interface. Any BT Sport customer can create their own Watch Together room and invite anyone else who is also a BT Sport customer to join them to create a unique match viewing experience.
360 – which enables viewers to watch live action from a range of sporting events in BT Sport's 360 service. A new 'pinch and zoom' functionality enables fans to home in on their desired areas of interest to make customers feel like they are at the ground. 360 offers viewers the chance to select different camera angles and viewpoints, not normally seen in broadcast.
Manager Mode – customers have the choice of adding real-time graphics as part of the match coverage augmented on the pitch. This feature provides informative and insightful stats such as player names, player speeds and a mini-map that tracks the positions of all players for a unique tactical viewpoint. Later this season, a shot velocity tracker will become available.
Stadium Experience – fans can use an augmented reality doorway in the BT Sport app to be transported from wherever they are into exclusive behind the scenes experiences of leading football teams and sporting stadiums. Depending on the club and stadium, these include areas such as dressing rooms, dugouts, trophy rooms and tunnel areas.
Matchday Live – fans can access team line ups, formations and in-game stats brought to life through augmented reality from wherever they are watching the action.
All five Matchday Experience features will be available to every BT Sport customer around BT Sport 1's Saturday lunchtime Premier League matches. In addition, all five Matchday Experience features will be available around select midweek Premier League games, starting with BT Sport 1's exclusively live coverage of Manchester United v Southampton on 2 February, and Tottenham Hotspur v Chelsea on 4 February.
Meanwhile, Watch Together can be used by BT Sport customers around any programme broadcast across BT Sport's four TV channels. Feature availability will expand over the coming season around BT Sport's coverage of certain matches from the UEFA Champions League, Emirates FA Cup, Gallagher Premiership Rugby and boxing clashes. Optimised for 5G, the features also work on WiFi and 4G networks.