Bulgarian install for Community ahead of 2015 UEFA European Under-17 Championship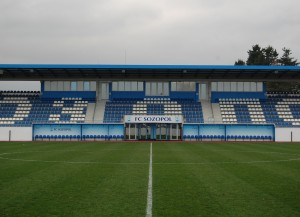 Arena Sozòpol is one of four venues that will host the 2015 UEFA European Under-17 Championship. Completed in plenty of time for the championship, the 4,000-seat stadium has undergone full reconstruction with new grandstands and amenities.
Burgas-based Pro Audio Ltd was commissioned to design and install the audio for the new stadium, which is located in the town of Sozòpol on the Black Sea Coast.
Stanislav Petrov, managing director of Pro Audio, explained: "High intelligibility, even coverage and good sound levels with headroom were all main criteria, so Community's R SERIES were the natural first choice. Their accurate dispersion also avoids unnecessary overspill in the vicinity of the stadium and their all-weather reliability is second to none."
The project was accomplished in two stages, as each of the new grandstands was built. Eight Community R.5s were used for the main stand, with two R2s covering the playing field. In phase two, an additional nine R.5s were installed to provide complete coverage of the second stand.
Mixing for the system is handled by an Allen & Heath analogue console with DSP and routing via a TOA M-9000M2 with remote control units. The Community loudspeakers are powered by QSC CMX series amplifiers. The system uses a Sennheiser ew300 4-channel mic system and a TASCAM CD player provides a source for music.
Petrov commented: "The system is loud and clear and provides excellent coverage of every seat. Visitors can enjoy themselves, comfortably hearing the commentary and entertainment even when excitement is at its highest and the crowd at its loudest."