BVE 2017: EVS to show off 4K replay production, remote content access
BVE 2017 will see EVS (stand E18) bring its production tools to ExCeL London, including the XT4K live production server, DYVI switcher, and Xeebra multi angle review system.
The XT4K, the industry's leading 4K-UHD live production server will be showcased at BVE 2017. The server supports four channels of uncompressed UHD-4K on a single 12G-SDI cable with XAVC-4K recording and 10 bit HDR support. The server also has the ability to support 12 or more HD and Full-HD 1080p channels with the ChannelMAX configuration and features integrated on-board IP technology for I/O.
When integrated with existing EVS servers XT4K users can leverage existing infrastructures and benefit from an extended EVS XNet network. Built with its signature loop recording, the XT4K lets users react with the speed of EVS technology, making the server the best way to produce 4K resolution instant replays.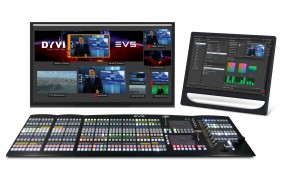 A number of applications from EVS' suite of live tools will also be on display at the show, including the operator's interface LSM Connect, the live replay enhancement suite of Epsio tools and IPWeb, the remote browsing application.
In the live environment EVS operators can use LSM Connect to have instant access to and control of all clips, playlists and metadata created with the LSM Controller and stored on EVS servers. The Epsio range of products can then be used to enhance replays and highlights with graphics overlays (Epsio Live), telestration effects (Epsio Paint) and data graphics (Epsio FX). The EMMY award-winning Epsio zoom allows operators to zoom into 4K camera feeds to deliver HD replays from an additional angle.
In a demonstration of its Connected Live environment visitors to the EVS stand will be able to use IPWeb to access, browse, select and clip content stored on servers at the company's headquarters in Liège, Belgium. This kind of connectivity enables easier access to content for more efficient production and more creative storytelling.
Most recently installed at Parc OL for the game day production of content for French football club Olympique Lyonnais and used by Francis Ford Coppola for the live switching of his Distant Vision project, EVS will also have its DYVI switcher on display at BVE. Ideal for broadcast studios and stadiums that have multiple productions and broadcast outputs, DYVI's IT-based architecture enables both creativity and production efficiencies, letting operators go beyond the traditional limits of the classic switcher design.
With the ability to play, pause, rewind and even zoom into 16 HD camera feeds at once, Xeebra opens up opportunities for multiple stakeholders. From sports analysts and referees to medical and coaching staff, the system lets operators utilise an intuitive touchscreen or dedicated controller to analyse the camera feeds that remain entirely in-sync no matter how they're reviewed.
All of these solutions from EVS will be displayed on stand E18 at BVE 2017. The exhibition and conference is held at ExCel London between 28 Feb and 2 March 2017.