Calling the shots at UEFA Euro 2020: Match director Jamie Oakford on how he will tell the story of the games from Wembley Stadium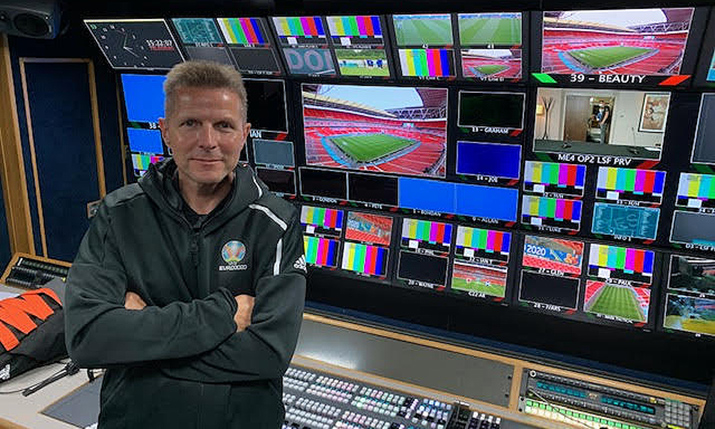 The UEFA European Football Championship (Euro 2020) is well underway, with all teams having played at least one group match now.
Tonight (Friday 18 June) sees another big fixture, particularly for TV viewers in the UK, as Scotland take on the 'auld enemy' England at Wembley in a game that the away team cannot afford to lose and home fans will expect to win.
The host broadcast match director for this crunch clash is Sunset+Vine's Jamie Oakford (pictured, above), one of the top directors in the business.
A stalwart of Premier League matches, his CV also includes the Champions League, the FA Cup and both Euros and World Cups, where has been at the helm of the final.
At Euro 2020, Oakford is stationed at Wembley, covering all England's group games plus a Round of 16 game, both semi-finals and, most prestigious of all, the final.
On the eve of the tournament, SVG Europe spoke to Oakford about his directing style, how he prepares for matches and how he plans to tell the story of Euro 2020 games at Wembley.
How does directing a major tournament match differ from directing a Premier League game?
"It doesn't really differ that much really. You do get the fervour of the fans, but then you also get that in the Premier League. They're just more colourful and depending on where you are, there are [a few variations] like drumming and vuvuzelas [the South African horn]. One big difference is that as it's a bigger event, we get more resources and more toys to play with."
You're directing all of England's group games. As an Englishman, that must make you very proud.
"I'm doing all the England games, and the semi-finals and final. That's a huge privilege but also a huge challenge. The eyes of the nation are on us. There are 11 directors and I'm really honoured to be representing our country."
You've been able to select your own 50-person Euro 2020 crew, which is made up of operators who have worked for both BT Sport and Sky Sports this season. When selecting your team, do you see yourself a bit like a football manager: someone who wants the right blend of skills, talent and experience?
"Well, you certainly can't have a whole team of Maradonas [the late Argentinian World Cup winner]! You need a mix. You also need people who won't get on a super slow or close up camera and won't be disappointed about it.
"I will have camera operators on the 14 key camera positions who are the same throughout. They're used to working with each other, they know how I work and they know what I'm expecting from them. They have done it a million times before. They know what to do in every situation. I won't have to go through every single set-play with them, for example.
"If anything, the toughest challenge is getting the chance to use all the cameras. It's so hard to squeeze them into the coverage, because the game is so fast."
"I've never really thought of myself as being like a football manager but when you're abroad you have to manage your crew in a certain way so it is a bit like that I guess. Most of these guys are mature individuals, they're not kids but you do have to make sure everyone is motivated to do the job you need them to do.
"The great thing is that we are blessed in this country with a brilliant team of people who work on football week-in, week-out. The quality of camera, audio and replay [operators] is second to none. It's a dream job because we're doing all the big games at Wembley so I can tap into all the best people."
What personal preparation do you do before each game?
"I will research the two teams involved. I will watch videos of [pre-tournament] games and then record every game in the tournament to watch later. I will look at team formation and the way the team plays and also research the manager: what is he like? Is he going to be sitting on the bench looking miserable – or jumping up and down?
"It's mainly just little things that you have in the back of your head so you go into each game armed with an idea of what might happen – but of course every game is different.
"I'll also look at the pre-match anthems to work out what sort of shots we might need – will there be singing or crying? I will also get photographic headshots of the players and try to understand how they play. We provide headshots to the camera operators too."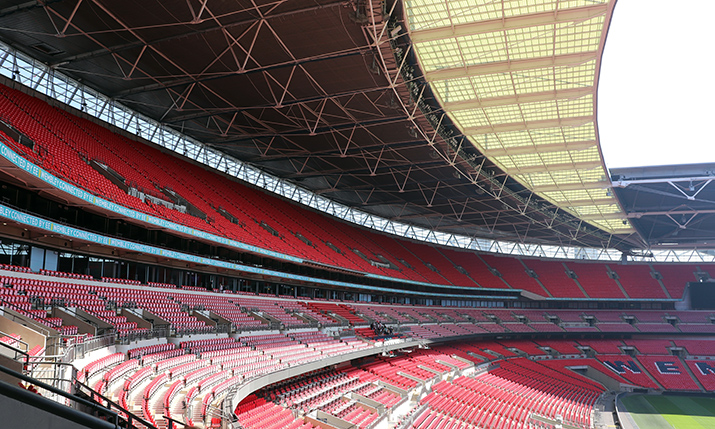 With COVID-19 regulations in place, how will you brief, and communicate with, the crew?
"Crew briefings will be done on talkback but where they need to be in person, we will adhere to social distancing guidelines.
"The guidelines are that we shouldn't be in each other's faces. If anybody in the crew goes down [with COVID], the impact could be quite serious so most of the briefings will take place in large open spaces – such as on the pitch.
"Then I might do something individually with the replay guys as a small group and we'll talk to cameras, in small groups, to have some specific chats with people."
The standard configuration for all UEFA EURO 2020 matches will comprise a minimum of 36 match coverage cameras. An additional eight cameras will be used to cover other events surrounding the match (team arrivals, fan coverage etc.), providing a variety of supplementary content for all feeds. Find out more about the camera set-up.
How does that differ from what you are used to, what are you looking forward to making use of, and what challenges do you face?
"We've got a crane, which is very common on the continent but not so much here because of space limitations inside the stadiums. So that'll be a nice little bonus. It's the kind of thing you only get at major tournaments. There's also a dedicated manager camera. And we have AR graphics that will be used before the game kicks off.
"If anything, the toughest challenge is getting the chance to use all the cameras. It's so hard to squeeze them into the coverage, because the game is so fast."
Are you given a brief?
"UEFA do issue directors guidelines to try to [standardise] the product but there's no pressure from anybody to do anything differently. They do give us more cameras though. So I can ask certain cameras to focus on certain things.
"All the directors are going to do their games differently but the principals are that we will all try to do the same things with the cameras at certain times. They are not telling us what to do but they are asking us to make all the coverage look like it comes out of the same box. We can cover everything but in a certain way. If it affects the game, we will show it. Most of it is common sense."
The Clips Channels are part of the output that UEFA is providing for rights holders that consists of 14 multilateral feeds per match: live stadium feed (in HD-SDR, HD-HDR and UHD-HDR), Team A & B feeds, tactical feed, Camera 1/Heli, aerial camera system, stadium beauty shot, Player A and Player B, Clips Channels 1 & 2, a 180-degree camera plus four ISO feeds per match: 16m camera left, 16m camera right, high behind goal left, high reverse stand.
The Clips Channels are produced remotely at the IBC. Tell us more about their role?
"When I am doing the game, a lot of stuff that I am not using then gets passed onto rights-holding broadcasters via the clips channels. There are two channels, one for action shots, one for emotion. Broadcasters can use this content in their own output at half-time or full-time. It's a multi-feed concept. I cover the game but anything that we shoot that doesn't make it to air, they can use. We have a multi-feed producer on my crew. It's a very comprehensive service."
That must add to the workload in the truck?
"When we do a Premier League match, our EVS guys are mainly concerned with the match. But during major tournaments, they're multi-tasking – they are recording a couple of camera replays and building stuff and clipping. They are working hard which is why we need really good people. There is a massive amount going on in the trucks."
Let's talk about storytelling during the game itself…
"My philosophy is that the viewer should have the best seat in the house. If I go to the game as a fan, I can see everything I want to see from the stands, in the wide – but I can't see the detail. That is what broadcasters can bring – the detail. I don't like to be overly fussy. If the ball is in play, Camera 1 doesn't do much wrong. I only cut when I think I can add to the coverage. In some countries, directors cut away while the ball is in play. That drives me mad."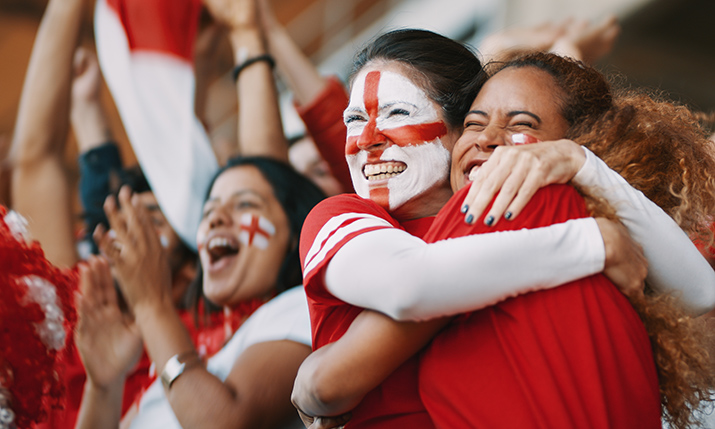 Football is a passionate game. How do you capture or treat emotion?
"When I first started directing football it struck me that we only show one side of the game – the happy side. A guy scores a goal, here's a close-up of the guy who scored it, here's the fans going mad. But I try to tell my camera guys to think about the other side – we want to see the happiness but I also want to see how the team that conceded are feeling: what is the manager thinking, how are the fans reacting? Are they shouting at each other, trying to get each other going? I try to encourage those shots too. Some camera ops can even show both emotions in the same shot. More of those shots have crept into match coverage in the last few years."
Do you rehearse or pre-plan any shots or sequences?
"When the game is in progress, there's not much you can do to make it any better than it is. But once the ball goes out of play, that is the chance for a good director to show what he is about.
"Penalties are a great example. You can build the drama and the tension. Big close up of the goalkeeper. Big close-up of the penalty taker. Somebody in the crowd biting their nails. What is the manager doing? It's more about how we treat certain elements of the game rather than camera angles. I trust the camera operators that they know what I'm thinking and they're going to try and give me what they think I want. Sometimes you just have to let them react.
"In the replays, too, you'll get little bits of gold dust where you'll see the goal go in and you'll see some nice other stuff as well – the reaction to the goal going in, a defender or a double shot or something that helps to tell the story.
So, less is sometimes more?
"Tell the stories. Let the viewer trust you. When I direct a game, in the first five or 10 minutes, I try to reassure the viewer that I am not going to let him or her down and that they are going to enjoy the ball in play – and the emotion and speed of the game.
"When you have a game between two aggressive and fast teams, you don't have time to do what you want to do. You have to just respect the game."
"And then when the ball is out of play, they will enjoy other moments. We want to use all the tools we have to enrich the coverage but when the ball is in play, I want to be the viewer in the stand. The onus is on the director to answer all the questions – that is what we can do with the big cameras, the close-ups, the replays. The Steadicams. But most people just want to see the game. You have to be careful not to interrupt that."
Does the modern way of playing, where keepers take goal kicks short, for example, and the ball is in play so much more than it used to be, make your life harder?
"Definitely. When I first started directing football regularly, when the ball went out of play for a goal kick, the crowd would mess around with the ball, the keeper might have a drink. We could go to a replay and then come back to the live shot and the ball still hadn't been kicked. Now, the ball is passed quickly to the defenders and before you know it, it is up the other end of the field. There isn't as much time anymore. That is the biggest challenge. To do what I want to do without interrupting the flow of the game and ruining it for the viewer."
What do you do to compensate for that speed?
"I have learnt not to be too reckless. I am naturally an aggressive director in terms of close-ups and replays when the ball is out of play. I have learnt to rein that in and be more circumspect. I do a bit of research and try to find out which teams will play fast – and which teams will slow the game down.
"We have all these toys. UEFA have [provided] all these cameras. We want to reflect that on the screen, of course. But when you have a game between two aggressive and fast teams, you don't have time to do what you want to do. You have to just respect the game."
Overall, how does it feel to be working on Euro 2020?
"We are very privileged and lucky to be working for UEFA. It's a massive event. We are very excited and we want to do a great job."
UEFA Euro 2020 continues until 11 July 2021 in stadiums across Europe.