Canal+ uses Sony Picture Stitch and DAV on classico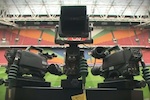 The recent classico Olympique de Marseille/Paris Saint Germain premier league championship match (produced by Laurent Lachand) and aired live on Canal+ was the first French match to benefit from the Sony system that combines both new images and a new content enrichment tool.
"After having carried out numerous test runs, especially during the PSG/Nancy match (with Jean Jacques Amsellem at the helm) we decided it was time to go live for the first time ever with the Sony solution," explains François Charles Bideaux, sports production director for Canal+.
Picture Stitch technology
Three HD Sony cameras were mounted at the centre of the stadium, each one angled to cover a third of the field. Cameras, video servers and MPE-200 processors were used to create a panoramic image (6k x 1k). The cameraman could choose the video frame according to what he wanted to portray (pan, tilt, zoom). Recorded continuously on the server, the panoramic image or big picture allowed for browsing without missing any of the events taking place on the field. At any given time the cameraman could search for and select a portion of video action from the panoramic image.
Data Augmented Video
Sony also developed the 'Telestrator' software that can add rich editorial content to the panoramic image in real-time or in slow-motion replay. Coupled with a tracking system (SportVU) developed by STATS, it can collect both tactical and editorial information in addition to tracking players' positions in real-time. This tool enhances the TV viewers experience by simultaneously providing action images on the playing field as well as delivering key data elements concerning the match.
The application has been integrated in Euro Media France's OB unit. It can also be used for 3D stereo recording.
"It's a very interesting solution, not only does it provide TV viewers with an enhanced experience, it is also of great use to coaches and the technical staff of the clubs who can really analyze the positions and tactical situations of each player throughout the whole match. We are working very closely with the developer to improve certain minor aspects that we cannot comment on for the moment," concluded Bideaux.