Case Study: How TSN and RDS more than doubled video views with Deltatre's microsites and enhanced video player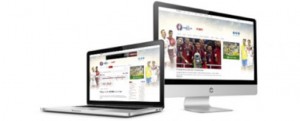 Adding interactive functionalities to the viewing experience proved to be key in engaging fans and maximising the value of football content during last summer's Euros football tournament. After the successful digital coverage of the FIFA Women's World Cup, Canadian broadcasters TSN and RDS wanted to bring fans an even more compelling experience during EURO 2016.
The continental tournament, held in France from June 10 to July 9, featured some of the best footballers in the world and provided fans with classic clashes. But TSN and RDS' coverage on their digital platforms over-performed the expected viewing figures, changing the way fans watch football on their devices.
Christopher Lotz, digital project manager from TSN, said: "Overall, the results were fantastic. We had roughly the same audience as Women's World Cup last summer, but with much much higher consumption, especially of live matches, which was amazing."
Responsive solution
Building on their previous work with TSN and RDS around the 2015 FIFA Women's World Cup, Deltatre designed and built two EURO 2016 microsites with their sport responsive website solution, Forge, enriched with official data feeds provided by Next Generation Services. What Deltatre focused on, though, this time was finding a way of revolutionise the live experience.
Integrating Diva, Deltatre's advanced sport video player, into the live stream section of the website, TSN and RDS managed to offer fans a totally new way of consuming football on their digital devices. The timeline navigator let them move to key events of the match and go back to live with just one click, while the interactive overlays provided live stats and match info, without losing one second of action.
The integration of video with data, combined with strong editorial push and strategic calls to action, helped the Canadian broadcasters recording astonishing viewing figures.
Impressive results
"The live increase was incredible. And what makes it most exciting is that going into the tournament we focused so much on improving the live experience, both from an editorial strategy and from the inclusion of Diva," said Christopher Lotz.
Headline results included: +127% video starts, +16% VOD starts and +2,239% Live match starts (compared with the FIFA Women's World Cup 2015 in Canada).
Going deeper into the analytics, the most interesting result comes up: the growth in video viewed is mainly due to live matches. If the VOD viewing figures have been almost equivalent in the two events, live video analytics recorded a 2,239% increase with EURO 2016 games.
The sports broadcasting landscape is rapidly changing, with fans moving from linear TV to digital devices for watching live events. Give them good reasons to do so, it is clear, and you will have more engaged – and growing – audiences.