Celebro Media expands London studio with facility with NewTek IP series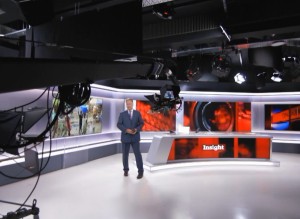 NewTek has announced that Celebro Media has expanded its Central London studio facilities with a significant investment in the NewTek IP Series. The NewTek IP Series will become the heart of Celebro Media's operations in Oxford Circus and will be extended to its four new studios at the facility.
Celebro Media has five studios at its central London location with further facilities in Moscow. By Autumn 2017, Celebro Media will have completed works on an additional five studios in London and two in New York. Also, Celebro Media has recently begun trials of a new OB service that allows multi camera switching down a single transmission line. The service is currently being offered to international broadcaster on a trial basis
Celebro Media specialises in live production, providing studio space, galleries, uplink facilities, staff and everything required producing and transmitting live content. Global broadcasters such as BBC World Service, MTV and TRT World all use Celebro Media's studios.
The NewTek IP Series will allow Celebro Media to usher in a new paradigm of production workflow, based upon NewTek's software-driven live production technology. IP Series' modular approach to production systems delivers virtually limitless access to video sources and video mixing possibilities.
The NewTek IP Series is one of the first large production systems designed from the ground up for IP video, whilst providing full backwards compatibility with traditional SDI equipment. Video, audio and control signals are transferred digitally using NewTek's NDI technology resulting in a fully customisable IP workflow solution with the flexibility to handle the most demanding production needs.
Jahlene Joseph, head of studios at Celebro Media Group, said; "The extraordinary flexibility of NewTek IP Series means we can push video content around our building using NDI – giving us unparalleled control over how our clients can view, ingest and manage live video streams. We're looking to further invest in NewTek IP Series over the next 12 months to grow our services."
Chris Waddington, director of sales – UK, Nordics & Netherlands at NewTek, added: "Already using NewTek's TriCaster and TalkShow solutions, Celebro Media was able to help TRT World to continue reporting on 2016's attempted coup in Turkey via Facebook Live, and eventually via YouTube. This flexibility and trust in NewTek's technology is what has cemented our partnership with Celebro Media, and we look forward to working with the team to grow their facilities worldwide."