CES 2019: 5G is set to give immersive media a boost
'It is not the technology itself but what it unlocks'
The future of immersive media was a major topic of discussion at the CES Sports Zone during a panel moderated by Mike Davies, SVP, field and technical operations, Fox Sports.
All involved in the panel agreed that one of the biggest drivers to growth of immersive experiences will be the launch of 5G services. "It is not the technology itself but what it unlocks," said Geoff Reiss, GM, Yahoo Sports/Verizon Media. "Every aspect of the consumer life is going to change."
For VR, it means the ability to deliver full 4K VR images to consumers; for esports and sports betting,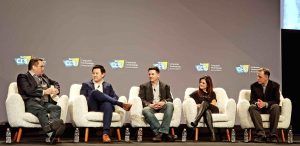 minimal and synchronised latency, which can drive growth in both. For for those on the production side, 5G can be leveraged as a potential wireless audio- and video-transmission backbone.
"It's absolutely the most exciting time to be in this industry," Reiss said.
Observed Danny Keens, VP, content, NextVR, "It will be a game-changer for us. It allows us to give VR users a better sense of presence and immersion."
Given that the topic of the panel was immersive sports content, VR was at the centre of much of the discussion.
"The Achilles heel of VR has been screen resolution and device form factor," said Keens. "The promise has been immersion, and we are now in an era of form factor, where the headsets are getting a lot smaller and no longer need to be tethered. Until late last year and now in 2019, that hasn't been there, but we are now seeing incredible platform growth."
The panelists made the point that VR technology is not an end in itself. The goal is to give viewers an experience that offers a sense of presence within a venue or other location. Technology is a tool, not the end product. For example, a feature like Oculus Venues, which allows users to sit next to avatars of friends and fellow fans, exemplifies how technology can fundamentally change the sports-consumption experience.
William Deng, VP, media strategy and business development, NFL, said that, although there is a lot of focus on live game coverage, the NFL's focus with VR is on access and giving fans a presence in the locker room or tunnel: "Right now, we want to show a different perspective."
Sandra Lopez, VP, Intel Sports and Media, noted that the move to VR reminds her of how, in the early '90s, there were big desktop PCs but now computers are the size of a phone. The hardware and software are getting smaller and more powerful, and VR is also opening up an opportunity to bring something new to sports: empathy.
"Last year, we did a VR game at Fenway Park, and a man who has MS sent us a note and said thanks. He didn't think he would ever be able to get to a game again," she said. "Eventually, there won't be headsets, and the progress that has been made in the past two years has been significant."
Lopez added that, beyond VR, there is the immersive experience of using algorithms to create personalised highlights, similar to the way a music service can curate a playlist. "The systems are getting smarter and smarter, and consumers want the experiences they have in other parts of the [entertainment] industry for sports."
Volumetric capture is another immersive experience that was touched on. The technology captures an event from multiple angles and synthesises the data to allow users to dive into the image via zoom, pan, and scroll. According to Lopez, Intel is working on ways to allow it to be deployed in such a way that users can be their own producer and director.
Reiss predicted the next 24 months will be important as more and more elements come together to make immersive experiences more compelling: "5G connectivity and a reduction of latency is a building block that will move from science experiment to business."
This story first appeared on Sports Video Group US. To read more, go to:
https://www.sportsvideo.org/2019/01/09/live-from-ces-5g-set-to-give-immersive-media-a-boost-esports-gains-momentum/