Champions League director Laurent Lachand on switching the Final to Paris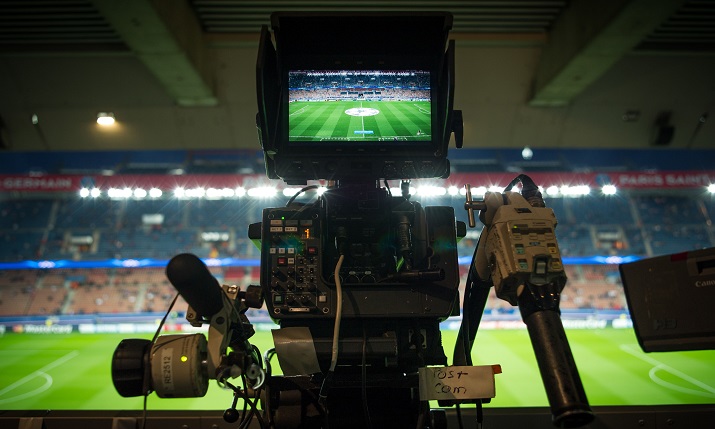 The teams responsible for producing coverage of the Champions League Final are getting used to some tight turnarounds. For the past three years, the location of the final has changed at short notice, due to the pandemic in 2020 and 2021, and this year in response to Russia's invasion of Ukraine.
The decision to stage tomorrow's final (Saturday 28th May) between Liverpool and Real Madrid at the Stade de France in Paris instead of St Petersburg was made in February by UEFA, which also awarded host broadcaster duties to French broadcaster and Champions League rightsholder Canal+. Outside broadcast firm AMP Visual was then selected by Canal+ to provide technical and production support.
"We have worked on a well-known camera plan and setups to be sure to deliver in three months what is usually delivered in one year or more"
Canal+ director Laurent Lachand has been tasked with overseeing the host feed. Lachand's credits include directing matches at the 2002 and 2018 FIFA World Cups, the FIFA Women's World Cup in Canada in 2015, UEFA Euro 2016 in France and a host of French domestic and Champions League matches.
Speaking with SVG Europe ahead of the final, Lachand says his big game experience – and that of the team he regularly works with – has helped them deliver to a tight deadline.
"We try to go fast and to be simple in our approach," he says. "We have some advantages, because of my knowledge of UEFA's plans for the Euros, and we use this type of camera plan. Also, we have domestic technical facilities with AMP, who we work with on the Champions League.
"We are lucky, because [AMP] has a long record of working on these kinds of games; the crew is the reason why I'm confident because we work together each week. For the final, we have worked on a well-known camera plan and setups to be sure to deliver in three months what is usually delivered in one year or more."
Lachand says an added complication has been the number of other sporting events that are taking place over the weekend and airing on Canal, including the Monaco F1 Grand Prix on Sunday, MotoGP at Mugello in Italy, the D1 Arkema women's football match between PSG and Lyon on Sunday along with the final stages of the Top 14 rugby union league, the Heineken Champions Cup final in Marseille, tennis at Roland Garros and the Ligue 1 and Ligue 2 play-offs.
However, he says the challenges have been greater for the production teams and crew than for him. "The most difficult aspect is not on my side, because to a certain extent, a match is a match. I worked on the Champions League semi-final in Liverpool, the semi-final in Madrid, and on Paris Saint-Germain against Real Madrid match. So I know very well the players on each team, the clubs and their history. That aspect is important, but more difficult I think is the production side.
"The production crew with Canal do an absolutely amazing job since we began three months ago, because this sport can be really complicated; everything from dealing with frequencies to setting up slo-mo cameras.
"The approach for the final is much like a match at the Euros or World Cup; we have to deliver a fair, world feed that shows a respect for the game, with the best angles and quality of images as we can for all broadcasters," says Lachand.
"In February, we delivered Paris v Madrid, which was not so far from a final because it was a huge camera plan. And we take this level, and we upgrade it to arrive at all the obligations that we have to provide on Saturday."
The 40-camera coverage of Saturday's match between Liverpool and Real Madrid will include an aerial camera system, one helicopter camera, seven super-slow motion and 2 hi-speed cameras, two in-goal cameras, two crane cameras and one coaching camera to capture the action that will air in over 200 countries and territories around the world.
Over 100km of fibre optic cable pulled by UEFA to deliver services to UEFA's broadcast partners, with unilateral facilities including 120 TV and radio commentary position desks, 30 unilateral camera positions behind the goals, 25 pitch presentation positions, 13 flash interview positions and four super flash interview positions.
The broadcast format will be simultaneous, synchronised and timed UHD-HDR and HD-SDI 1080i50 feeds produced from a single production platform. For Canal+, in parallel with the linear broadcast of the match, online service myCANAL will offer a stream in 4K HDR Dolby Vision 8.4 Dolby Atmos, with binaural sound for compatible Apple and Android devices.
Given the relatively short amount of time to prepare, Lachand says the focus for him, and his team, is less on technical innovation more on providing sound editorial coverage as Real Madrid attempt to win their 14th top European title, while Liverpool will be hoping to add to their tally of six.
"We had just three months to create a secure, high level for the final, so it's not a good opportunity to try something. We just want to push forward the usual tools that we need to cover this kind of event, such as the Spider Cam, or coverage from the chopper. And I think this is the best way, because in so small amount of time, it's not a good idea to try something different. The final is not a place for experiments. We need to provide secure coverage for the millions of people who will be watching.
"For a match like this, I think the most important aspects are those such as the interaction between the players, and to find the technical connections between the players and understand how the teams are playing."
With the 2020 Final in Estádio da Luz in Lisbon played behind closed doors and the 2021 Final to a crowd limited at 33% of the capacity of the Estádio do Dragão in Porto, Saturday's match will be a welcome return to a capacity crowd and provides an opportunity to focus on the atmosphere in the stadium.
"It's the first final since the end of Covid, and the first with a full stadium," says Lachand. "In Paris, we expect thousands of English and Spanish supporters. It's absolutely amazing, and the crowd is the difference between a regular match and the final. These matches are really different, with a taste of je ne sais quoi."