Changes, evolutions and technologies: Limelight Networks on new viewer technologies and the trends they will drive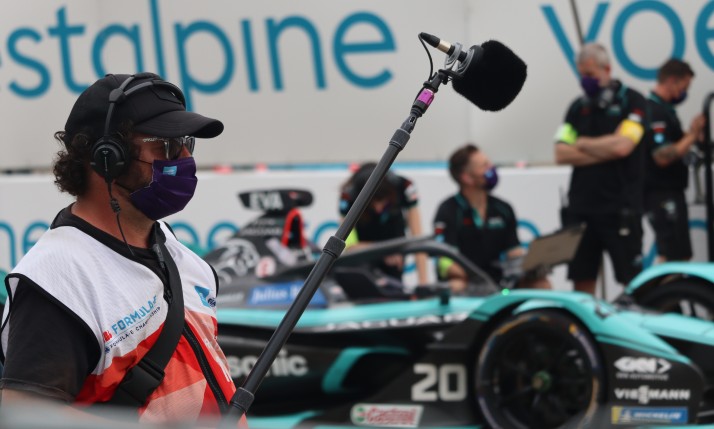 By Charles Kraus, senior product marketing manager, Limelight Networks
As we enter the holiday season, so come the requests for 2022 predictions. Forecasts abound. What I'm most excited about are the growth forecasts for sports streaming. You have to like the prediction from Verified Market Research, that the business of streaming live sports is expected to grow from $22 billion in 2021 to over $87 billion by 2028 – a CAGR of 21%.
We've seen year-to-year growth in the number of hours sports fans spend watching live sports online, but that alone won't drive this level of growth. What must happen to realise the optimistic projections? New innovative ways to engage viewers, to retain them and grow the subscriber base. This leads us nicely to the theme of our predictions for 2022; new viewer technologies and the trends they will drive.
Before we move on to the technologies themselves, let's first of all consider the key infrastructure for delivering live streams. The global content delivery network (CDN) capacity to distribute streams to audiences anywhere, with sufficient capacity to support high bitrate delivery, must continuously expand to keep up with growing demand.
Global CDNs will be increasing capacity in existing points of presence (PoPs) and adding new PoPs in more locations as warranted by regional demand. There have been a few major sports events that were delivered by live streaming only, not as a complement to a broadcast. Viewers of these expect the experience to be just like broadcast. As the number of such streaming-only events increases, it is critical for the distribution infrastructure to keep up with capacity demands.
Growth of 4K content viewing
As stream distribution capacity increases, it will enable more 4K content to be delivered to viewers in more regions. As an update on the status of live 4K content viewing late in 2021, it's still a relatively small percentage of online consumption. Major sports events are seeing single digit percentage of viewers watching in 4K, but it is trending upwards.
One of the reasons is there are limited 4K steaming options. 4K production requires massive investments in new cameras, encoders and production infrastructure. As we enter 2022 it is expected that more live event production capability will be 4K enabled. Predictions are that by mid 2022, large sports events could see 20% of streams delivered in 4K.
What about 8K?
Yes, there was 8K streaming from the Tokyo Olympics; about 200 hours out of the total of 9,500 hours of programming, according to reports. Considering how long it's taken to get 4K to where we are today, that's not surprising. Large investments are still being made to get 4K infrastructure in place, so it's too early to expect much action with 8K. Having said that, I have to say the demo of 8K with HDR I saw on a very large TV was absolutely stunning!
Tackling delivery latency
Another issue to address is delivery latency of live streams, which is typically up to 30 seconds or more. With broadcast latency around five seconds, many multi-screen viewing applications are inhibited by this gap. Adoption of low latency HLS and DASH technology using chunked transfer encoding (CTE) should start to gain traction in 2022, but there are headwinds as there is a lot of compatibility testing required of encoders, players and CDNs to deliver CTE end to end in the delivery workflow.
As low latency adoption ramps up during 2022, it will unlock several new applications that will bring more engaging viewing experiences.
New technologies to dazzle
I expect 2022 to see a rise in the uptake of new streaming technologies as companies in this market compete to retain existing customers and win more viewers. One of these is providing multiple camera angle views, including drone-cams above the field, for viewers to choose from. Higher bandwidth connections to support multiple stream delivery and low latency are required to provide a seamless experience as views are selected while watching.
Another viewer-focused application is Watch Together communities. Sports fans who enjoy watching matches together but are remote from each other are the target for apps that several sports leagues are testing, that provide a way for a limited size group of fans to view a live stream of a match and chat live with each other. The key to making this work is having the streams and the broadcast delivered with the same latency, so no matter how each member is watching the match, everyone sees the live action at the same time. Something to watch for in 2022.
Monetisation spectrum
Potentially the most lucrative area from a monetisation standpoint is live sports betting. Several major sports leagues are investigating and partnering with players in the sports book industry to offer ways for fans to place bets on various outcomes during live action while they are watching online. This is a very complex undertaking involving compliance rules and a patchwork of online betting legal issues in every region. But it's certainly an area to watch as very big players with huge budgets are working together to make it happen.
On the other end of the monetisation spectrum are fan engagement ideas that are being tested for fan interest. One of them is a key moment premium subscription option, that would send an alert to a fan's mobile device that a game-changing play by a team they follow just happened, with a link in the message they can click on to see a replay. Or, in a tied match in the final minutes, an invite to join the live stream to see the conclusion for a small micro payment.
Just recently there have been Q-codes popping up on TV screens that when captured by the viewer's mobile camera, takes them to a website where they may see special offers or make a purchase. Initial feedback from advertisers seems to be enthusiastic. One problem that has to be addressed quickly is how this would work for a viewer watching on a mobile device, where the Q-code is embedded in the video on the screen.
2022 could be an exciting year of sports viewing innovation if even just a few of these predictions pan out. The move by clubs, sports leagues and broadcasters to offer direct-to-consumer streaming services with live sports will also boost demand for these services. Whatever happens in 2022, we'll be sure to write about it as the year unfolds.