Changing habits of sports fans: Verizon Media on how OTT can be used to capture new audiences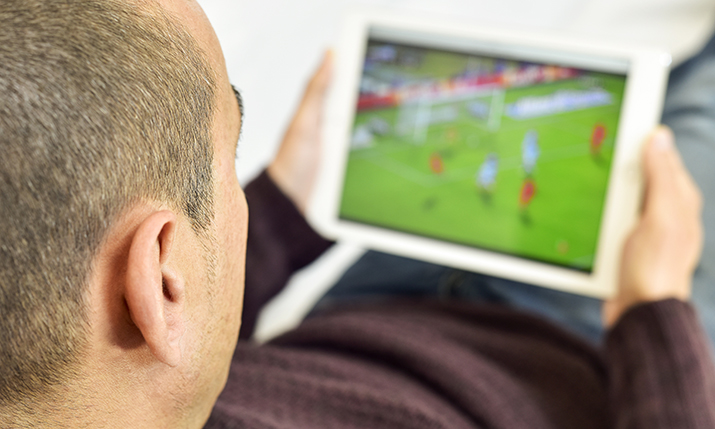 The winners in the sports streaming landscape will be those that evolve their offerings to meet the changing needs of live sports fans, writes Ariff Sidi, general manager and chief product officer, media platform at Verizon Media.
Live sports are starting to make a comeback. Football was the first to return with the Bundesliga, LaLiga, and the English Premier League resuming, albeit behind closed doors. Fans are eagerly awaiting the forthcoming announcements of the rest of Europe's top sports leagues returning to our screens.
From global events like the FIFA World Cup to games being played at a local level, people come together to avidly watch all the action from their favourite teams. It is of no surprise that the competition for the rights to broadcast live sports is more intense than ever before.
Stop the cord-cutters
For traditional pay-TV services, live sports is a way to retain viewers who would have traditionally cut the cord, which is why in the UK, BT Sport and Sky Sports paid a combined amount of over £3 billion for the rights to broadcast the Premier League.
However, pay-TV services are also facing increased competition from streaming services like Amazon, DAZN, and Facebook, who are all taking part in the live sports distribution business, which will undoubtedly continue to change the landscape in the coming years. But, while live sports will continue to undergo a significant transformation as a result of the rapidly changing viewing habits and expectations of live sports fans, COVID-19 has additionally left its own unique mark on the sports business This may further change audience expectations as in-home streaming continues to surge.
Evolving streaming distribution
The way media has historically been distributed has remained largely the same for years. However, digital products, video or otherwise, better meet consumer desires for control and have contributed to ever-evolving consumer viewing habits.
The flexibility and capability of streaming distribution has pushed the media industry into a state of flux where products are constantly shifting to meet consumer demand. Now, as large gatherings find themselves pivoting from face-to-face events to digital experiences, and more sporting organisations turn to streaming events minus the fans, consumers are turning to streaming services to watch content that they cannot find on traditional TV or in person. These viewing habits are establishing yet another new norm for how sports content is consumed.
Satisfying consumer hunger
A recent report from Verizon Media found that sports fans are not getting what they want from live sports streaming services since many sports fans do not have access to all the teams they want to watch. Altogether, 63% of sports fans would consider paying for a live sports streaming service if it did offer greater coverage of a sports league or team they are interested in.
Over the top (OTT) technology's potential for limitless content offerings means sports fans can get closer to their teams by accessing more niche offerings whether that be smaller sports not widely available on television or teams in the lower divisions of mainstream sports with passionate fan bases.
Such data highlights a significant opportunity for streaming platforms to tap into a need in the live sports market which is not currently being met. Live sports streaming platforms can win new subscribers by offering them more of the content they cannot find on traditional TV.
Consumers clearly have a hunger for tailored packages with 56% of consumers willing to purchase passes for specific leagues and teams to gain access to all the games in that sport. However, interestingly, there is a growing number of fans who want to purchase packages to watch all the games from a specific team and for individual games. This is particularly alluring for fans of sports that do not meet the fan-base or monetisation threshold needed to justify being broadcast on traditional television.
The report also showed that live sports fans have different expectations about the advertising experiences available on streaming services compared to traditional linear broadcasts. Over half (54%) of live sports viewers expect fewer ad breaks in favour of less interruptive and more integrated commercial messaging, where on-screen ads and banners are personalised to the individual viewer and are woven into the experience. This further reinforces live sports fans' desire for more curated online experiences which is difficult to replicate in a linear environment.
Control and personalisation
Greater personalisation and individualised experiences also underpin live sports fans' desire for greater control over the live experience. Approximately one in three viewers would like access to replay controls, including slow motion and the ability to switch between camera angles, while there is also a significant proportion of fans that would like social media controls and posting incorporated into the live experience.
By providing live sports fans with greater control and freedom to personalise, streaming services are in a uniquely powerful position to engage viewers. A streaming service capable of innovating and providing viewers with access to the teams and leagues which are not available on traditional TV, personalised advertising, and greater control can offer viewers a compelling and modern sports-viewing experience difficult to replicate elsewhere.
In increasingly uncertain times, more consumers are shifting from pay-TV to viewing sports through their smartphones, laptops, and TVs through streaming services. The winners in the sports streaming landscape will be those that evolve their offerings to meet the evolving needs of live sports fans.
The full findings are available by downloading the report, Viewing Shifts: How We Watch Sport, published by Verizon Media in partnership with Leaders in Sport.