Channel 5 Thailand on the road with new compact Mercedes OB van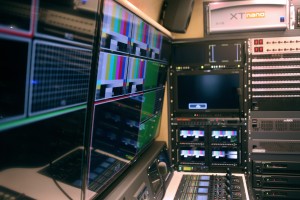 National broadcaster Royal Thai Army Television (Channel 5) has taken delivery of a multi-functional outside broadcast (OB) production vehicle which was designed, built and commissioned by Hitachi Kokusai Turkey. On this project, Hitachi worked closely with its local representative, Bangkok-based P.S. & Sons (Thailand) Co, Ltd.
Based on a Mercedes-Benz Sprinter van, the vehicle combines a compact and lightweight construction with some of the region's most advanced OB production capabilities. The OB truck supports five Hitachi SK-HD1200 multi format HDTV production cameras and a team of six production engineers.
Designed and built at Hitachi's Istanbul facility, the new OB truck is ideal for use as a small, flexible production vehicle covering a range of sporting, cultural and entertainment events throughout Thailand, supporting productions where a larger OB truck would be impractical or cost prohibitive.
Starting with the standard Mercedes Sprinter truck, Hitachi implemented extensive modifications, installing stabilising jacks, thermal and acoustic insulation, on-board air conditioning and a purpose designed ergonomic working environment for the six-person team. All cabling is stored on motorised drums within the vehicle meaning that set-up and break-down of events is swift and easy.
Hitachi's next challenge was to specify and integrate the latest production technology from trusted industry vendors. Alongside its production cameras, which are fitted with Canon lenses, the vehicle includes Ross vision switchers and 3G/HD-SDI routers; EVS slow motion servers; Inscriber character generators; recorders from Panasonic, Sony and AJA; Blackmagic Design HDMI-SDI converters; a Yamaha digital audio mixer and audio gear from Sennheiser, Trilogy, Genelec and Tascam.
The truck's advanced production workflow is suited to servicing a number of events including outside news broadcasts, sports events, drama productions, religious festivals and national cultural events.
"We were first attracted to Hitachi by the quality of their cameras, which we saw being operated at the Incheon Asian Games but then we became aware of the fantastic OB centre of excellence that the company has developed in Istanbul," said Sumneang Noipasri, Chief Engineer of Technical Division at Royal Thai Army Television (Channel 5). "Their ability to meet our production needs so completely with such a relatively small vehicle is a big help. And the cost savings generated by this innovative approach are a big bonus for us too."