Cheltenham Festival 2021: ITV Sport adds a Robycam to its UK coverage amid tight COVID restrictions
Wired camera system is being used to add a new dimension to the broadcaster's AR graphics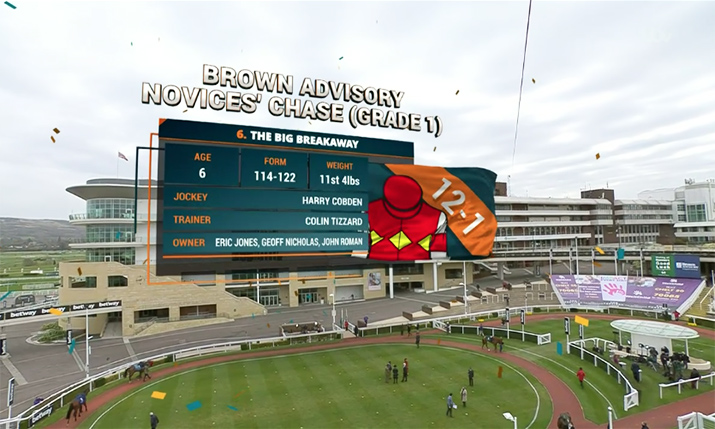 ITV Sport is making the most of a COVID-secure behind-closed-doors Cheltenham Festival by introducing a new Robycam wired camera to its unilateral coverage of the popular horse racing meeting.
The Cheltenham Festival is part of the National Hunt racing calendar and includes the Gold Cup (Friday 19 March), a Grade 1 chase race, run over 3 miles 2.5 furlongs with 22 fences, that is considered the most prestigious race of the Jumps season.
With no spectators allowed at the racecourse this year because of COVID-19 restrictions, and all the racing, course and media personnel on-site confined to different health and safety zones, the ITV production team have utilised the additionally available space around the parade ring to install three towers to run the Robycam system.
The Movicom-developed wired camera, supplied and piloted by Birds Camera Solutions and managed and operated by Luna Remote Systems, is being used in conjunction with augmented reality (AR) graphics, provided by AE Live, to show on-screen data, such as the runners and riders, in a more dynamic way – but also to partly mask the lack of crowd.
"The parade ring is usually full of cheering punters and has a great atmosphere. I can't replicate that but what I can do is try to fill that space with an incredible camera and show some great graphics on it"
Speaking to SVG Europe, ITV Sport senior director and major events executive producer Paul McNamara explained that the new camera would serve several purposes.
"We previously had a long wire-cam that went all the way from the Guinness Village over the parade ring," he said. "But this one is like the sort of camera that you might see on the rugby or on the Superbowl. It's a new camera that, as far as I know, has never been used on horse racing before.
"It will be able to link some of our presentation positions up. I can go from where [presenters] Ed Chamberlin and Francesca Cumani are, out to the Social Stable. I can do AR graphics on it showing the standings in the Prestbury Cup, for example, or the runners and riders, and put VT into it as well.
"The parade ring is usually full of cheering punters and has a great atmosphere. I can't replicate that but what I can do is try to fill that space with an incredible camera and show some great graphics on it."
ITV Racing's Social Stable is a social media hub that links all the channel's Twitter, Facebook and Instagram channels ensuring viewers can get involved in the festival from afar and feel part of the event.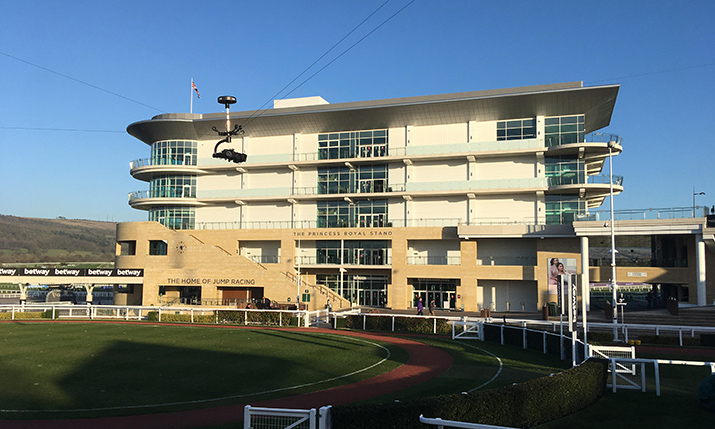 Rob Oldham, ITV technical manager for sport, added that the Robycam would help to "improve the presentation" of the AR graphics, which were first introduced last year, by "opening up the third dimension to the designers and pilots".
"The lack of crowd is what has enabled the use of the Robycam system," continued Oldham. "We have one point on top of a stand but have had to find locations for three 31m towers provided by West End Rigging. These have small footprints and are relatively subtle, but are located in positions we would not normally have access to, including the Guinness Village.
"We have also made one of the jibs mobile having it mounted on the back of an off-road buggy. Having no crowds to navigate, we can get better value by utilising multiple positions."
---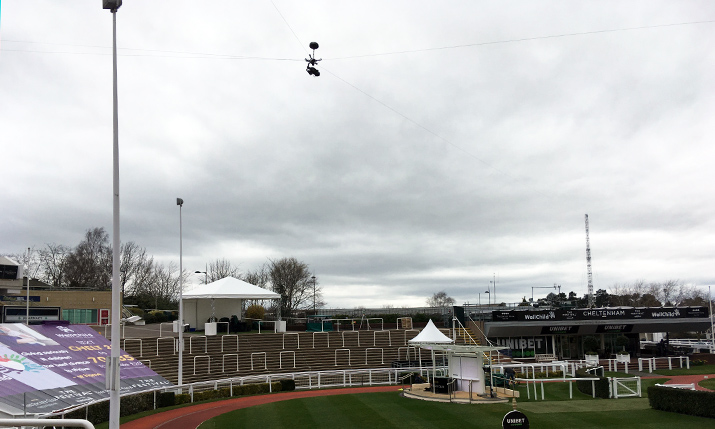 Luna Remote Systems were asked by ITV Sport to provide the inaugural Robycam set up at the Cheltenham Festival.
Commercial director Jo Adams, discussing the project, said: "I've worked on the racing before and I understand what a huge and important event Cheltenham is in the racing calendar. Because of our experience, we also realise what a big deal it is to work safely with the course and how important horse welfare is, especially when introducing new systems into the mix.
"Horse racing has very specific needs and requirements. It's been a very involved project for us, there is a lot of engineering planning that goes into building the towers from scratch, it's not as easy as turning up at a stadium with existing infrastructure already in place.
"That's why we hired West End Rigging to work with us as they are highly experienced in this area. We've been really pleased with how it has all gone and the AR looks fantastic on screen. It's been a brilliant addition to the coverage."
---
Lack of fans, but no lack of excitement
McNamara has made some subtle adjustments to the way he is directing the action this year, to compensate for the lack of spectators.
"I do cover the racing slightly differently," he said. "Normally on the first circuit, you come to the inside cameras to show the vast array of people in the stands. This time, I won't. I'll cover it from the stand side so you don't see the empty grandstands."
This won't be that unusual to him, though, as he's well versed in the new normal, behind-closed-doors, way of working.
"The end of the last Cheltenham Festival was pretty much when we locked down [for the first time]," he said. "And we've been producing shows behind closed doors with no crowds, from empty racetracks, for the best part of a year."
"A successful festival for us is one where everyone at home really enjoys the coverage, that all the jockeys and all the horses stay safe and well and that we provide a great broad gamut of entertainment"
"I myself have directed programmes at empty race tracks. I've directed programmes from my bedroom at home. We had remote kits put in at home. Remote kits for the presenters at home. We've been on-site where there have been no crowds. So it's been pretty much our staple diet for the past for the last 12 months."
As is the case with pretty much all sporting events at the moment, the lack of crowd sound is a big consideration for the coverage of Cheltenham.
One of the UK's most popular meets, it usually attracts 200,000 fans across its four days and is noted for its atmosphere, including the 'Cheltenham roar', which refers to the large noise that the crowd generates as the starter raises the tape for the first race of the festival.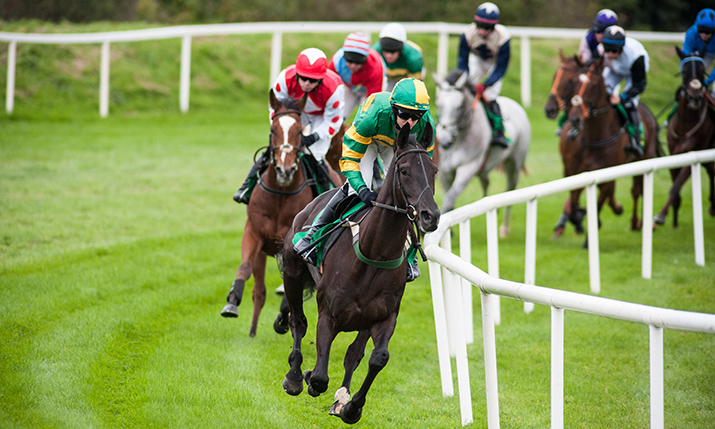 This year, a sound clip was included in its place, taking audio from a previous festival and mixing it with noise provided by viewers on social media. McNamara described it as a homage to normality and "as a bit of fun". Read more.
Other than the Robycam and the augmented Cheltenham Roar, the overall TV coverage of the festival is broadly similar to last year with ITV taking some feeds from RaceTech, who act as the host broadcaster for the Racecourse Media Group (RMG), and then adding some of its own unilateral production tools including a Batcam drone, two tracking vehicles, one fixed and two roving jibs, three PTZs for stewards room and commentary, and two 'Claisse Cams'.
The latter, explained Oldham, are "portable padded minicams that can be used out on the course to get dramatic shots of horses thundering past or amazing low-angle shots of hoses landing over the jumps". Read more.
ITV is also displaying in-race sectional timings from the RMG Coursetrack GPS tracking system for the first time. This will provide the commentators with data that they can use to analyse the live race and, according to Oldham, "in time will become a useful tool for those having a bet".
Coping with COVID
Of course, like everyone working in sports production at the moment, ITV's work at the racecourse is restricted by the health and safety guidelines put in place to prevent the potential spread of COVID-19.
As a result, a lot of effort has gone into making the event, and the TV coverage both possible and practical, as Oldham illustrated.
"The operations team at Cheltenham have gone to extraordinary lengths to be able to put the event on this year in a COVID-safe environment," he said.
"This includes the creation of an Irish zone where any Irish participants are housed on-site and not allowed to mix with the British participants. This means that any ITV staff operating in Irish zones are not allowed to cross into the GB zone at any point during the week and vice versa."
This had a massive impact on the logistics for the outside broadcast crew from NEP, while they were rigging, he said.
The zones also affected how the presentation team will operate, added McNamara.
"We've got our presentation team on site. We've got some guests, including Kevin Blake, who will come in from Ireland. We've got Ruby Walsh at the track, but because he's part of the Irish contingent and is segregated, he'll broadcast from a hospitality box on his own. We'll be Zooming owners at home too. So we've got a mixture of everything really."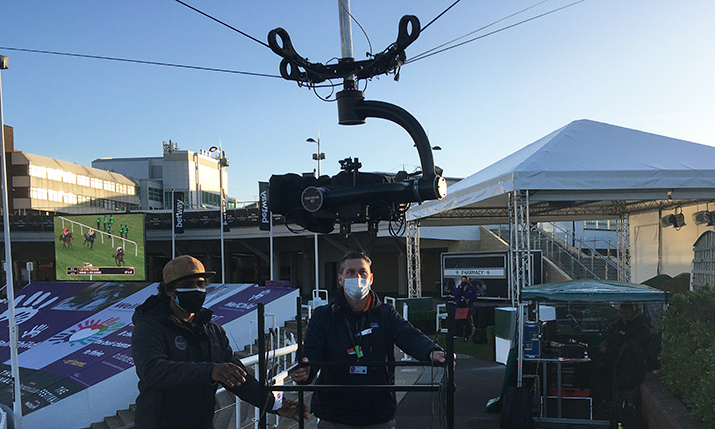 Oldham said that Zoom has now become an "integral part of our broadcasts over lockdown".
"It has allowed our team to include those who would normally be part of the event but are unable to attend and also given us access to A-List celebrities viewing at home. I suspect that Zoom will be one of those lockdown necessities that will continue once we return to normality."
Some remote production workflows have also been put in place to aid social distancing.
"The distancing protocols mean we are using extra OB vehicles to gain safe spaces for the production team," said Oldham.
"And with a minimum number of staff on-site, we have remoted the edit operation to Timeline Television in Ealing and our media management team control the flow of media to and from the site from the comfort of their own homes using remote desktop access to EVS IP Director."
On the home straight
Taking into account all the upheaval and changes from previous years, what does a successful 2021 Cheltenham Festival look like? McNamara points to three things: safety, innovation and entertainment.
"A successful festival for us is one where everyone at home really enjoys the coverage, that all the jockeys and all the horses stay safe and well and that we provide a great broad gamut of entertainment," he said.
"We hope there's something there for the real horse racing enthusiasts and also something for people who are not dyed in the wool racers but that love their sport, ensuring there is enough in the coverage to hook them in and for them to be able to enjoy it.
"We will cover it all as well as we can, try and innovate, include some really good editorial moments, use all our cameras and new graphics and give the viewer a really entertaining three hours of television with some top horse racing in the middle of it."
ITV will be broadcasting the first six races at the Cheltenham Festival each day, live on its main channel, from 1pm until 4:30pm GMT.
The Cheltenham Festival takes place 16-19 March 2021.