Clear-Com connects auxiliary channel's production truck for OTT skateboard streaming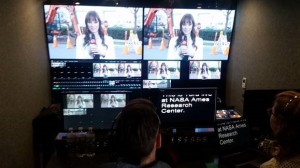 Clear-Com is providing intercoms for media production company Auxiliary Channel's 28' broadcast-grade trailer, which has been leased to over the top (OTT) subscription skateboarding network ETN Live. Auxiliary Channel is operating the truck for ETN Live both at the online broadcaster's Los Angeles production headquarters and on location around the world. ETN Live streams paid skateboarding content online through its website.
Auxiliary Channel's multi-camera production truck is equipped with a Clear-Com Eclipse HX-Delta 32-port with four available frame card slots for extending the matrix's intercom capabilities. The HX-Delta is loaded with a 64-channel E-MADI (Multiple Audio Digital Interface) card; an E-QUE-HX card for integrating FreeSpeak II 1.9GHz wireless beltpacks; and up to a dozen V-Series user interface panels to access and switch between the HX-Delta's intercom channels. Auxiliary Channel has also purchased four FreeSpeak II antenna transceiver modules and 10 FreeSpeak II wireless beltpacks for use with the HX-Delta system.
As the world's first paid skateboarding OTT network, ETN Live offers a wide range of quality skateboarding-themed programming to a youth-focused audience. Some of its content is shot at the company's own indoor skateboarding park or outside on its property; not just competitive and extreme boarding shows, but also reality, gaming, and comedy programs all tied to the skateboarding theme. ETN Live also covers skateboarding events around the globe; either by dispatching the Auxiliary Channel truck, or pulling production elements from the truck and sending them with camera teams on the road.
"ETN Live is the first OTT skateboarding network in the world to charge for its exclusive streaming content," said Brian Reardon, Auxiliary Channel's owner and founder. "This means that the video we produce on their behalf has to be compelling, professional, and guaranteed to hold the interest of paying viewers. Delivering this kind of high-quality video consistently requires an intercom system that keeps everyone connected at all times – which is why I chose Clear-Com."
Brian Reardon has gotten to know his Clear-Com intercom equipment extremely well since the Auxiliary Channel production truck went live in mid-2016. "I wish that all the equipment we employ was as reliable and consistent to work with as our Eclipse HX-Delta intercom system," said Reardon. "We can count on hearing our people wherever they may be during a production. The 64-channel E-MADI card has so much capacity that it serves as the backbone for our truck's audio system. Virtually everything we need is carried through the E-MADI card to the audio console and the router."
Auxiliary Channel is just as happy with the truck's FreeSpeak II wireless intercom solution. The ability to place the four FreeSpeak II antenna transceivers wherever Reardon's crew needs them makes it easy to ensure reliable wireless coverage, because these units connect to the Eclipse HX-Delta using CAT-5 cables. Reardon also cited the FreeSpeak II beltpacks' 18-hour rechargeable battery life, and the system's ability to support up to five programmable channels per beltpack (each one labelled with its own 10 LCD character label) as being very useful features. "Overall, the Clear-Com intercom system has been a very good investment, and it helps us deliver the caliber of skateboarding content that ETN Live wants," he said.
"Skateboarding is an exciting, emerging viewer sport," said Kari Eythorsson, Clear-Com's Regional Sales Manager, Southwest USA. "We are pleased that our solutions can help with their fast-paced productions and their ability to deliver high quality content."