Comcast Technology Solutions publishes new free-to-download white paper for sports broadcasters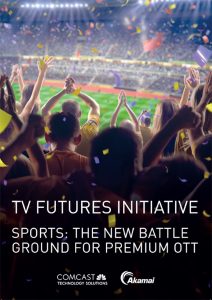 Newly published and free to download is a major white paper from Comcast Technology Solutions and Akamai Technologies. The paper contains a wealth of information and insights regarding the attraction, engagement and retention of sports fans across multiple devices and geographies.
Building a successful premium sports service that fans value highly is just one side of the equation for rights owners in 2018; they also have to ensure that they can successfully extract the value they create by monetizing their ser­vices effectively, especially as rights continue to become increasingly expensive to procure, and sensitive to manage, particularly across multiple regions.
In the context of these developments, Comcast Technology Solutions and Akamai Technologies provide an insightful guide to the latest revolution in the TV and video space, based on their perspectives and that of leading industry players – ranging from sports aggregators to brands.
You can download this white paper by filling in a short form located on the Comcast Technology Solutions website:https://www.comcasttechnologysolutions.com/resources/sports-new-battleground-premium-ott.