Comms central nervous system behind the 2017 FIS Alpine World Ski Championships
The 2017 FIS Alpine World Ski Championships, held in February in St. Moritz, was supported by a media and communications network based on Riedel Communications solutions. Leveraging Riedel's MediorNet real-time signal transport, processing, and routing network and Artist digital matrix intercom system, the integrated communications backbone contributed to the safe and smooth running of the ski championships, Switzerland's largest and most visible sports event this year.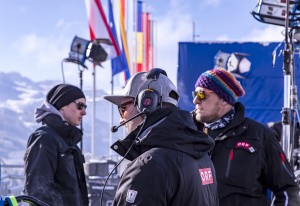 A team from Riedel Communications Switzerland AG planned, installed, and operated the radio network. Working with the Alpine World Ski Championships' local organising committee, the Riedel team designed a digital, redundant radio network that provided a base for reliable communications among 30 different user groups with full connection to the Riedel Artist intercom. Over 600 radios for timing, race management, security, logistics, and production were handed out to the local event organisation. A customised CCTV application allowed engineers to monitor the relay stations installed at St. Moritz simply and conveniently for optimal radio coverage.
"A holistic and reliable communications infrastructure is absolutely indispensable to the success of this event," said Franco Giovanoli, CEO and Director of the FIS Alpine World Ski Championships. "With Riedel, we had an expert technology partner at our side that developed a comprehensive strategy for weaving together all of the complex threads of communication the event requires. Over the two weeks of the championship, we were able to guarantee a perfect — and above all, safe — experience for everyone, both on and off the slopes."
Host broadcaster SRG SSR and its subsidiary, Technology and Production Center Switzerland AG (TPC), as well as the European Broadcasting Union (EBU), used the Riedel MediorNet real-time media network for signal distribution. Numerous other TV networks, such as Eurosport (with NEP as the OB service provider), ARD, ORF, and RAI, also trusted MediorNet and Artist to support their live broadcasts. Riedel's MediorNet MicroN high-density media-distribution network devices enabled a redundant and decentralized signal routing and transport infrastructure and supported a mobile, flexible production with higher bandwidth, additional connection options, and integrated processing features.
The elaborately produced images were captured by a total of 38 cameras installed along the course as well as at the start and finish areas. More than 40 kilometres of fibre-optic cables linked the international broadcasting centre to production sites at Salastrains (runway and finish area) and the Kulmpark (award ceremonies and drawing of the number bibs). MediorNet also handled signal distribution for the live commentary as well as the stadium video presentations, allowing the TV and production feeds to be transmitted to LED walls in the finish area. Riedel's SmartPanel control panel, together with its new control app and Riedel's STX-200 professional Skype® interface, also supported the stadium TV presentation.
For intercom, a dozen Artist frames — for NEP, BR, ORF, and others — were used for the World Ski Cup, along with more than 200 panels. 40 of these panels were for event and organisation, such as the Medal Plaza, radio centre, stadium TV, and timing. Police and paramedics in St. Moritz were also able to leverage the Artist network, connected via VoIP. Riedel Communications Switzerland AG created a specially designed event 'cockpit' in which three Riedel team members monitored the event and communicated vital information, such as race shifts or delays, to other user groups.