Coping with acceleration: EMG explores the challenges facing sports broadcasters in 2022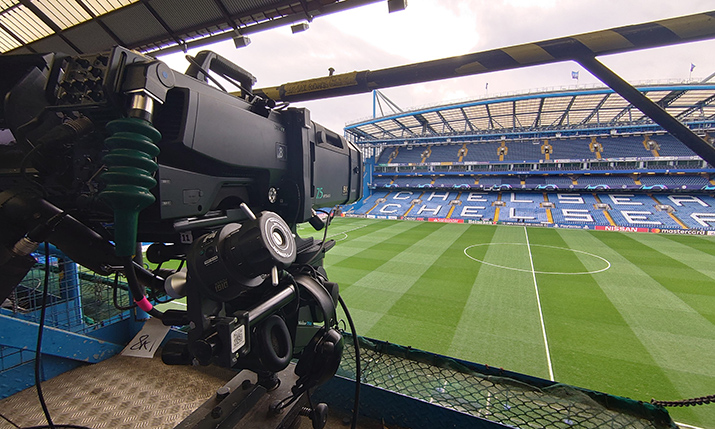 By Adam Berger, head of special projects and innovation, EMG UK
Unfortunately, once again we have to start any article looking ahead to the coming year with caveats. We do not know how the Omicron variant will affect the remainder of the winter sporting schedules. In terms of crowds at games and international movement it could be disruptive. The hope though is that the protocols the industry has put in place since the pandemic started will enable us to continue to cover events that still take place.
Which leaves us with a few issues. If the trajectory we have been following in 2021 continues into 2022, even with a blip over the next few months, we have some interesting things to cope with.
Managing workflows
One is the diversity of workflows. COVID accelerated the deployment of several technologies by many years, especially at the Tier One level. Remote production is now locked into the way the industry works, and there are no projects we see that do not have at least some element of a remote workflow as part of the brief.
The challenge lies in servicing the new flexibility that this has unleashed. The genie is out of the bottle. Because commentary teams, for example, can now work from home, many do, and the expectation is that this can be accommodated in any live production. It is the same with any production component from graphics to replays; the cameras and the riggers have to be at the venue, everything else can be remoted.
Connecting these components together is easy. Connecting them together in a low latency environment and cost-effectively is sometimes a challenge. The early deployments of remote production saw Venue A connect to Production Hub B and that was largely it. These simple structures are becoming a thing of the past as the production hub itself has become increasingly decentralised. It is now common to see workflows requiring multiple international access points and connectivity has become one of the first things we look at in any new job.
The cloud will, of course, help with this. But cloud workflows for live production are still in their very early stages. There are concerns about the feasibility of moving entire productions into the cloud, with the latency being introduced into talkback, for instance, currently providing a sticking point.
More work on addressing this with multi-access edge computing (MEC) will undoubtedly sort out the issue, but the challenge here will be keeping it cost-effective. Remote has been such a success because a) it was necessary to continue in the COVID era and b) it is cost-neutral. Virtualised production workflows will also need to demonstrate genuine cost-effectiveness to truly succeed.
Labour challenges
Where remote does very much help us though is in coping with another of the 2022 challenges: labour. The constant rise in demand for content has put crews under pressure as never before and every company has faced staff shortages.
This has been exacerbated by the demographics of live production. The conveyer belt that always used to bring in younger staff members has been severely disrupted over recent years, with the net effect that while we have increasingly experienced crews, they are also increasingly ageing as well. COVID has served as a catalyst for many to look at the long hours associated with live production and decide they want something else from their work-life balance.
Remote operations can help to keep them onboard on the one hand, dramatically reducing the number of people that need to travel to cover events. On the other it helps widen the net for new recruits too, lessening the importance of geographic location and providing a more typical working day in comparison with other industries. And as we converge increasingly with IT, we need to all recognise that we are no longer operating in a walled garden and are in competition for skillsets that are also in demand in other industries nowadays as well.
The key issues the industry will face in 2022 are all about the five Cs: connectivity, cloud, costs, crew, and (sadly) COVID. The increasing use of remote production is complicating some of these and mitigating against others and it will be interesting to see how the acceleration in its use continues to evolve as the year progresses.