Counter-Strike Global Offensive eSports finals rock the SSE Arena with FaceIT
eSports rocked the SSE Arena at Wembley between the 20 to 23 September, at the Counter-Strike Global Offensive (CS:GO) FaceIT London Major. The Grand Finals, which took place in front of a live audience of 10,000, saw over one million concurrent viewers tune in to watch.
The event became the third highest viewed eSports tournament of all time, behind only Dota 2's The International 2018 and League of Legends World Championship 2017, (excluding Chinese viewership).
Andrew Lane, technical broadcast manager at FaceIT, a competitive platform for online multiplayer games, told SVG Europe: "The Major finals marked our sixth anniversary. We have grown rapidly over the last six months though, which is down to the eSports market. It's really exploding, especially in the UK. There's a lot of growth in sEports and we're trying to take hold of that."
The FaceIT London Major saw over 57 million views on Twitch, with a total of 61 million hours watched, and established the FaceIT TV Twitch account as officially the fastest growing account earlier this month, putting prolific streamer Ninja second in the charts (TwitchMetrics.) It also went out live across YouTube and Stream TV, which is Val, the CS:GO creators', own streaming channel.
The Major was broadcast across over a dozen platforms in over 15 territories and saw Sky Sports broadcast competitive CS:GO for the first time. The viewing figures from the Major continue a recordbreaking trend for the tournament following unprecedented viewing figures for the qualifying circuit, the Minors, with the EU Minor alone seeing over three million hours watched in July.
FaceIT has more than eight million users logging in a total of over 12 million online game sessions each month. It allows players to play in tournaments and leagues for virtual and real-world prizes through automated tournament management and competitive gaming technology. For developers, FaceIT's advanced software development kit (SDK) allows game creators to easily integrate user friendly competitive gaming and tournaments into their titles. Meanwhile, eSports organisers, players and communities use FaceIT to create and manage online competitions and live events.
Differences between eSports at home and away
There are subtle yet important differences in producing live eSports events, versus live sports events, said Lane. He explained: "We are taking a virtual game and putting it on a screen. People come to the stadium, but in the case of eSports they want to see something similar to what they see at home. They want to still be able to hear the commentary and see the same sort of thing as they normally do, which in itself is a challenge, but at the same time there needs to be a reason to actually go to the event, to be part of the crowd and the atmosphere."
To create the similarity yet difference between watching eSports from the comfort of home to the stadium, FaceIT has to pull aspects of the games in real time out into the 'real world'. This can be something like when a fireball in the game explodes, it is translated into flames all over the stadium. This works in two ways: firstly, games such as CS:GO are integrated with the FaceIT platform so special effects happen simultaneously; and secondly, FaceIT does its own systems integration to link the gaming world to the broadcast world, coding to fill gaps and to bring the experience alive.
Said Lane: "We've worked a lot on the live event for broadcast and the live experience. We have live integrations with the game, taking graphics from the game onto big screens, and taking bits of the game out and pulling it into the stadium in a real experience."
On bombs going off in the stadium, Lane added: "Because we've got a link directly into the game, we use lighting, sound and video to erupt the stadium into flame in real time, as a bomb goes off in the game, for instance."
Custom tech to join gaming and broadcast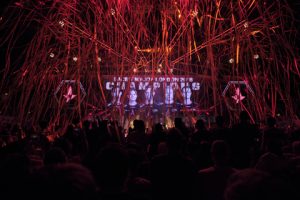 FaceIT uses a lot of custom technologies throughout its operation. For the CS:GO FaceIT London Major, it used a custom mini map of the game that meant operators could zoom in on the action, live. "All of the integrations, such as bomb explosions in the stadium, the arena lighting up, are all our own code," said Lane. "If there is part of the broadcast world that needs to be glued together, we work on that inhouse. We're our own systems integrators as much as a production company," Lane commented.
Pulling off an event like the CS:GO FaceIT London Major still incurs huge challenges for FaceIT, said Lane: "It's still a massive technical challenge for us, as we are linking into the broadcast world. We have 80 video sources coming into our routing and matrix system; it's quite a complicated set up.
"Of that 80 sources, 33 are cameras of different types. Some are player cameras, pushing footage out to LED screens in the stadium, and out to broadcasters. We also have jibs, at our last event we had a wire camera in the roof, and fixed cameras all over the place to give us the best coverage of the event. The other 47 sources are computer generated, so these are quite a big challenge for us. We have to take the game and make it into a regular video, although we're now very well tooled up to manage that," he said.
FaceIT mixes the show using two vision mixers, with the same sources going to each but one for broadcast and one for the live event, creating a different experience for both.
Another reason fans will travel to a stadium to watch a game being played is the social aspect, noted Lane. eSport gamers will meet the people they play with in person at these events, as well as getting to know new people. "It's a social event. People meet the people they play with, and the next year they come again and it's like a reunion for them."
Next up for FaceIT is the eSports Championship Series which starts on Wednesday 3 October and will be shown exclusively on YouTube. This will be produced from FaceIT's Santa Monica studios over 25 days, with eight matches a day (four European and four North American form FaceIT's two leagues), culminating in a live final in Arlington, Texas, at a brand new eSports stadium.