Create, Share, Engage 2023: Speakers from FIBA and Sunset+Vine confirmed for 3 May event in London.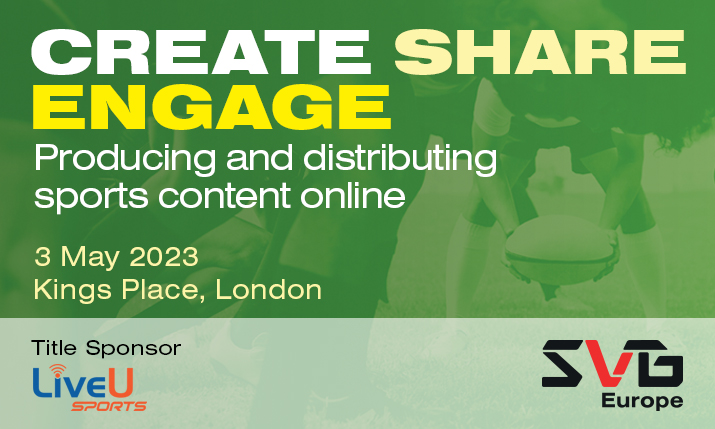 The first speakers have been announced for Create, Share, Engage, a new in-person conference and networking event from SVG Europe taking place at Kings Place in London in May 2023.
The LiveU-sponsored event will bring together leading producers, service providers and technologists at the forefront of making and developing online D2C sports content and viewing experiences. It will offer insight from, and provide guidance for, federations, leagues, associations, clubs and other rights owners, focusing on content creation and fan engagement across digital platforms.
The opening keynote interview will feature FIBA Media managing director Andrew Ryan. He will discuss how the international basketball federation captures and shares content to drive engagement among viewers and create commercial opportunities. The conversation will encompass FIBA's approach to production, how it supports its media partners, and explore the Courtside 1891 digital platform that brings video and live data from professional basketball played across the globe into a single, curateable destination. Ryan will also speak about the 17-year joint venture between FIBA and DAZN which covers all production and rights commercialisation across broadcast, OTT D2C and data for FIBA's premium events.
Also on the programme will be a session called 'Best in Show: How to produce effective sports content for digital platforms.' This fireside chat will see Sunset+Vine head of digital Raj Mannick talk best practice when it comes to creating digital sports content. With federations, leagues, clubs, and events in mind, he will outline what works and what doesn't, share some success stories, and highlight how sporting organisations and brands can best make the different platforms work for them.
In addition, a panel of broadcasters and vendors involved in one of the IBC Accelerator projects will reveal how they are pioneering the use of software-defined production workflows for the efficient use of resources in bandwidth-constrained locations, potentially to the benefit of lower-tier sports.
More speakers will be announced shortly.
The day-long event is free-to-attend for qualifying sports production and broadcasting industry professionals. There will be ample opportunities for networking.
To find out more and to register go to: https://www.svgeurope.org/create-share-engage/