CTV heads out on the links for Dunhill Championship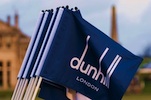 It might only be a decade old, but the Alfred Dunhill Links Championship is already firmly established on the golfing world's calendar. It presents unique challenges too, both for the golfers and the CTV production team that has to cover the three courses for Sky and the world feed – the Old Course at St Andrews, Carnoustie and Kingsbarns – over which it's played.
"One of our biggest challenges is when we set up in the pitch black in the compound, and the next morning at first light you're there and then you have to recheck all the course cable and do a complete fax check before you do the production fax: there's just no time," says CTV Technical Director, Hamish Greig. "We're on-air at 13.30, but we're recording from 12.30, which means the production fax is at 11.00. It's a really tight turnaround. You've got one hit at it."
The team is covering three courses simultaneously, all of which are cabled. Everything is hosted at St Andrews, but there is also a full-on second OB which is from Kingsbarns on the Thursday and from Carnoustie on Friday and Saturday (hence the night-time rigging). A small unit at Carnoustie covered Thursday's programme, which had three RF cameras, three on-course commentators, an EVS, and a cabled camera, to provide limited coverage.
"While the smaller unit is working, we give them extra camera kit and they'll buzz out the course for us, so we know when we go in where any problems might be," says Greig. "Hopefully then when we do go on air it's a seamless production."
Uplinks in the shape of two vision circuits plus ISDNs and audio from Carnoustie (40 miles) and Kingsbarns (10 miles) all feed back into St Andrews so the director can either take coverage live or record it onto EVS and play it out later.
"There are lots of ISDN cords going around because we have course commentators for Sky and for the world feed at all three venues, and the producer at St Andrews talks to all three," he continues. "It's quite complex comms-wise, and it's quite complex OB-wise too. But it's all par for the course…"
Glossing over the sheer awfulness of the pun, one of the other problems for the production is the weather, specifically the dowsing all the kit took over in Ireland last weekend at the Solheim Cup.
"Damp lenses are a problem," says Greig. "Last week they were in torrential rain, and with all the temperature variations you can have misting lens issues and we have to dry out all the lenses and all the covers otherwise we're in real problems."
And the bad news for Greig? While the rest of Britain basks in an unseasonable autumnal heatwave with temperatures nudging 30°, the weather forecast for St Andrews over the weekend promises highs of 16°. Oh, and rain…plenty of rain…