Daktronics multi-media display heralds new era at MSG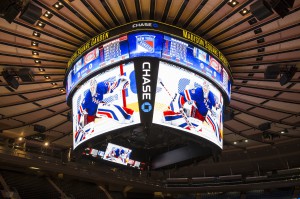 New York's iconic sports and music venue, Madison Square Garden, has been equipped with a centre-hung multi-media display manufactured by Daktronics. Incorporating more than 20 individually produced LED displays, the installation serves as the centrepiece of The Garden's new GardenVision LED video display infrastructure.
In total, the multi-media display consists of 24 individual HD LED displays, which are curved to mirror the circular design of the Garden in order to provide maximum visibility to all seating positions. The scoreboard is said to be one of only two structures in all of sports with LED displays on the inside-bottom, benefiting those seated in the lower sections.
The main video displays are capable of showing one large image all the way around the board to highlight live video and instant replays, and can be divided into separate screens, to show a variety of graphics, animations, up-to-the-minutes statistics, scoring information and promotional videos. The centre-hung video displays will have a unique all-black LED package, providing maximum image clarity and contrast.
The four main video displays measure 4.8 metres tall by 8.5 metres wide. Directly above those displays are four auxiliary video displays measuring two metres by 8.8 metres wide.
The corners of GardenVision contain four curved displays matching the height of the main video displays and four more curved displays matching the height of the auxiliary displays to create a full circular video board.
The top of GardenVision contains an ID ring consisting of a backlit LED panel that is more than half a metre tall and circles the entire top of the structure.
In addition, internal structural accommodations in GardenVision for Wi-Fi, IT and broadcast equipment are set to improve Wi-Fi coverage throughout the Arena, as well as provide new camera angles for the MSG Network.
Jay Parker, vice-president of Daktronics Live Events, comments: "Madison Square Garden wanted the very best and we're proud to deliver that to them. The curvature of the main video displays offers Madison Square Garden something that's never really been done before in this type of application. It's very unique and fitting for this venue. The underside displays serve as additional space for any form of content and really exemplify how different this display system is from every other venue in the United States.
"The flexibility and content options present endless possibilities for this versatile set-up. This project has been a great undertaking and it was a joy to work with such great people at Madison Square Garden. We are excited to see everything fired up and running for their first event."