DAZN and Plazamedia expand co-operation with new DAZN Space and additional show formats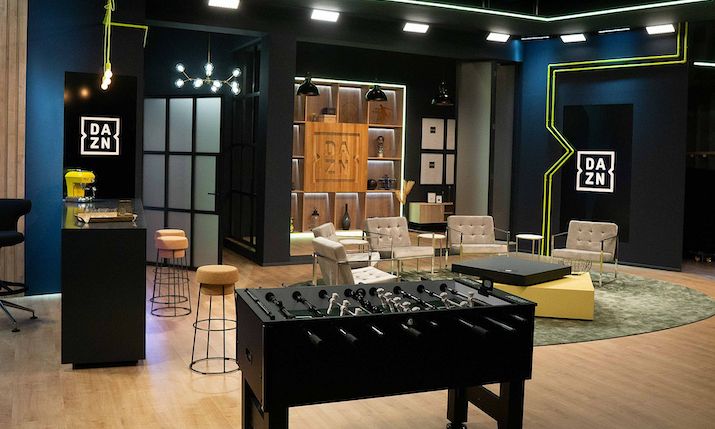 DAZN has commissioned Plazamedia to produce numerous show formats in the DACH region as it takes over complete production realisation for the streaming service. Plazamedia has also created the DAZN Space in Ismaning near Munich, a new 470sqm multifunctional broadcast environment that is home to four different sets from which a wide variety of show formats can be produced.
The DAZN Space includes the Living Room set for new soccer entertainment show Tippitaka with host and comedian Abdelkarim and his guests, which is broadcast live every Saturday. In the Daily set, various formats are produced Monday through Friday, including The DAZN Football Show: BAM. In the Locker Room set, among other things, an analysis format is realised, while the Cube houses a state-of-the-art commentary box for the broadcast of selected live events.
Two high-resolution LED walls and several monitors in different sizes are installed in the DAZN Space – variable design and composition of images from delivered 16:9 and 9:16 content is possible during playout. The furniture used on the set is equipped with moderation monitors, info displays and commentator units. In addition, tablets and laptops are used. The set design comes from the company Formlessness to Form. With regard to the lighting design, a total of 250m of high-power LED strips and over 250 lamps are used. The camera concept includes a Steadicam, three cameras on pump tripods with box optics and two remote-controlled, ceiling-mounted PTZ cameras.
A specially equipped dispatcher room is the editorial control centre for live broadcasts. All incoming live signals and control room monitoring are displayed on a large monitor wall. Various intercoms in the dispatcher room can be used to communicate with all internal and external workstations – such as the OB trucks on site and the DAZN master control room in London.
Plazamedia operates an independent broadcast centre for DAZN, where all content for DAZN's German-language OTT platform is produced. For live production, this includes high-performance production galleries, 15 live dubbing rooms, a central production control room as well as various editing suites and specially developed graphics and feed systems. The broadcast centre forms a closely linked production unit with the studio control room and playout, where central functions can be shared and where live broadcast signals are available to all units. A production network enables fast file transfer between post-production, archive and storage systems, studio control room and the central ingest and outgest at the PCR.
The TV control room uses a Sony XVS 8000 video mixer with four mixing levels. For the production of the German Soccer Bundesliga and the UEFA Champions League, all parallel live feeds are available in the control room. In addition to the broadcast signals, there is the option of integrating communication tools such as vMix Call, Skype, Zoom conferences and other social media and graphics applications.
The graphics concept includes real-time and analysis graphics for the broadcasts with systems from Vizrt, Chyron and Never.No. For visualisation in the studio, the 9:16 format is the decisive style element. Various monitors in the studio as well as content on the LED walls are displayed on edge.
Jens Friedrichs, chairman of the management board of Plazamedia, said: "After many years of successful co-operation with DAZN, we are very pleased to further expand our partnership starting this season. The new DAZN Space impresses with its modern design, the high-resolution LED walls with corresponding lighting design and state-of-the-art broadcast technology – another milestone in our activities for and with DAZN."