DAZN restarts global platform expansion from 1 December with major boxing matches
Moving into around 220 countries and territories from its current nine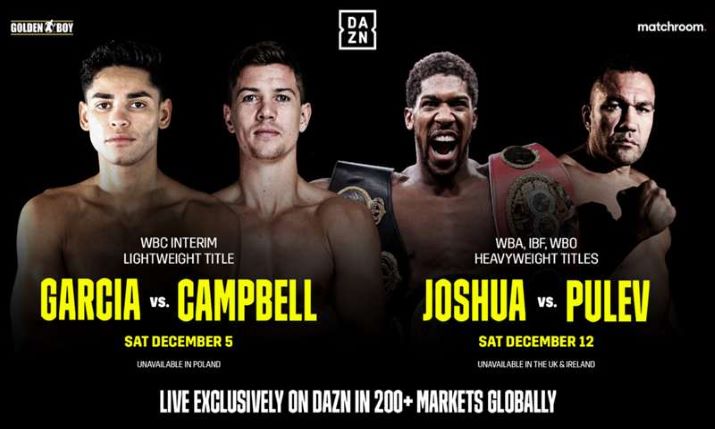 DAZN has announced it is restarting a significant expansion of its streaming service with the launch of a new global platform on 1 December, after delaying its initial planned kick off in May due to the pandemic.
It is moving into around 220 countries and territories from its current nine – Germany, Austria, Switzerland, Italy, Spain, Canada, the US, Brazil and Japan – following extensive BETA tests of the new platform over summer on its US service.
The new global platform has been developed over the past year to speed up DAZN's growth. Previously, every time DAZN moved into a new country it had to build a platform specifically for that territory, which took around six months. The development of the new platform was a tactical strategic decision which will quickly maximise viewing figures.
This is phase one of the new global platform, which is entirely English language based, including graphics. Future iterations of the platform will include local languages.
DAZN has been waiting for a major boxing event post-lockdown to tie the launch to. The platform will debut with back-to-back weekends featuring boxing events with international appeal.
On Saturday, 5 December budding lightweight American star Ryan Garcia will take on the battle-tested Brit and 2012 Olympic gold medallist, Luke Campbell (Garcia versus Campbell not available on DAZN in Poland).
Meanwhile, on Saturday 12 December, unified heavyweight champion of the world Anthony Joshua OBE will defend his world titles against Bulgarian mandatory challenger Kubrat Pulev (Joshua versus Pulev not available on DAZN in the UK or Ireland).
"From the UK to Mexico to Australia, we've seen an encouraging level of interest in our key events since first launching in 2016," said DAZN EVP Joseph Markowski. "We're looking forward to introducing the DAZN platform around the world this December with an exciting schedule of fights."
At launch, DAZN's global platform will feature world championship boxing events, as well as an ever-growing archive of classic fights, athlete features and a slate of original programming including 40 DAYS, Saturday Fight Live and One Night. Additional sports and programming will be added beginning in 2021.
The DAZN app will be available globally on most internet-connected devices, including smartphones, tablets, laptops, PCs, and living room devices such as smart TVs, streaming sticks and game consoles.
To maximise the international audience across North America and Europe, the main events for both fights will start around midnight GMT. The initial monthly price point for new markets will be £1.99 or less.