DAZN proves value of sports streaming model in DACH and Japan
DAZN, the live and on-demand sport service, has only been running 14 months since exploding onto the scene in Germany, Austria, Switzerland and Japan. The UK-based streaming division of Perform Group has made big strides from newcomer to big player in the market in that time experiencing significant success in Japan and some hiccups in rolling out its service into Canada.
While DAZN's subscription model is similar to Netflix's, the all important live element of sport makes what it is delivering a whole lot more complex. In the past year DAZN have shown over 20 million hours of content.
"Our aim was to establish DAZN in two key but very different markets – ultimately we wanted to prove the business model," James Rushton, CEO of DAZN tells Sports Video Group Europe. "We're very happy with how both our launch markets are tracking."
Along with healthy subscriptions in Japan, DAZN has actually grown attendances for the J.League in Japan, won top rights including the UEFA Champions League and UEFA Europa League in Germany, Austria and Japan from the 2018/19 season, and exclusively aired the biggest sporting event of the year – Mayweather vs McGregor – in three of its territories.
"On a global basis we have added resilience at multiple points," says Rushton. "We have added a new data centre point of presence in Hong Kong creating an additional link between our Japanese production facility and the Perform Sport Cloud to provide further resilience across our distribution network."
In production, it launched the live multi-screen produced service J.League Zone, a first for the market. This service allows viewers to follow the biggest games of the day with DAZN editors focusing in on the key moments.
It has also built a brand new production facility in Leeds to support English language output with multiple editing stations, two galleries and live voiceover facilities. Alongside this, there's a brand new PCR, MCR and playout facility to accommodate the increasing live event output.
The portal will show all 205 games of the UEFA Europa League live in Germany and Austria in the next three seasons. 190 of them will be streamed exclusively, 15 matches will be screened in parallel by a free-to-air TV partner. DAZN will also screen games of the UEFA Champions League from the 2018/19 season. after Perform Group sublicensed the rights from Sky Deutschland
"In Munich, we commissioned a new fast production facility to support the tight deadlines to turn around our exclusive Bundesliga highlights package – 40 minutes after the final whistle – which we have been broadcasting since the opening week of the season," says Rushton.
Boosting the J.League performance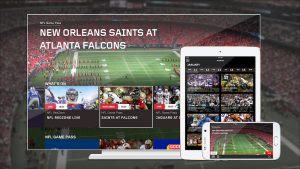 The J.League is the cornerstone of DAZN's content offering in Japan. Rushton claims that more people have viewed J.League in DAZN's first year than (previous incumbent, satellite broadcaster) Sky Perfect had at its peak. It has shown live 20 J.League matches concurrently and regularly deliver in excess of 40 live concurrent events across all of its markets.
"We are showing every single game from all three divisions (J1, J2 and J3) live for the first time and have increased the number and position of cameras and microphones in stadium to make sure fans don't miss a moment of the action as well as reaction," says Rushton.
J1 increased from 6 cameras to 9, J2 increased from 4 cameras to 6 and J3 increased from 0 cameras to 3 per game. DAZN also created Sunday J Prime, a showcase fixture that has 16 cameras at the stadium, and the J.League Zone, a programme that covers multiple games simultaneously.
"Our aim is the bring the level of production of the J.League up to the standards of European football," says Rushton. "Overall, stadium attendances have increased and thanks to our improved content output fan engagement around the clubs, the league and DAZN has also increased. We will continue to evolve the opportunities around programming, both on and off our platform and through our partnership with NTT Group we will be improving connectivity in more stadia."
The Smart Stadium Project is being rolled out with NTT across Japan. Wi-Fi is being installed in Yurtec Stadium Sendai and Kashima Soccer Stadium, with Nack 5 Stadium Omiya already installed. More stadiums will be announced shortly. The J.League has also developed an app which enables fans to watch the game and DAZN preview show at the stadium.
Canadian rollout challenges
Matters haven't been as smooth in Canada, where the DAZN service launch in September of exclusive rights to the NFL was afflicted by delayed feeds, bad audio and service skipping. Rushton had to extend an apology to subscribers and offer compensation, although DAZN is far from the only live streamer suffering from Net glitches.
"Live streaming is dependent on multiple factors and they can vary drastically from one home to another, and from one country to another," he says. "This makes it very complex to deliver exactly the same experience to everyone 100% of the time. There are different internet environments in each home, as well as a vast array of devices being used. It's a challenge we relish. With the challenge comes huge consumer benefits; we don't have a legacy business to protect or the infrastructure to pay for. Of course, we don't have the limitations of linear broadcasting either so we can bring consumers a whole lot more content at a far more affordable price and make it accessible across a wide range of devices.
"We are, and no doubt other OTT services are, always optimising our service and devices to make improvements. We've already seen vast improvements and picture quality that rivals linear broadcast. This will continue to improve as more companies move into the streaming space, pushing advancements and technology further."
The lag between social media and the live stream (where social media tweets beat that of the video stream) is a bugbear of all live sports streamers.
"It's one of the bigger challenges we face as we know how frustrating it is to find out something about the game before you see it happen," admits Rushton. "With all forms of broadcast there will always be an element of latency, the challenge facing ourselves and other OTT providers is to bring this as close to, and eventually better, the latency experienced in traditional cable and satellite delivery.
"We are working with our CDN partners, ingest companies and platform providers to reduce this step by step. We have already reduced our latency significantly since launch, and are testing and evaluating how we can roll out improvements across our wide range of clients."
The imminent entry of deep pocketed internet only players like Amazon, Facebook and Twitter in bidding for premium live sports is a vindication for Perform Group's launch of DAZN, he says.
Ambitious growth plans
"For us, having more providers come into the market shows that what we're doing is answering a definite consumer need and expands the market," says Rushton. "There's no denying that this is the future of sports.  We've learnt a hell of a lot over the past year and having successfully delivered key events such as Mayweather vs. McGregor and having secured key rights shows that we're ahead of the game."
"We share ambitious global growth plans and will launch new markets.  As we continue to grow all of our operations will also scale up."
There is opinion in the wider SVOD market that consumers are not getting value for money or the best experience with such a fragmented array of apps and service with which to watch the content they love. The argument continues that after fragmentation the market will re-aggregate to one or two super aggregator services – a Netflix, a Spotify, an Amazon or a pay-TV operator perhaps.
"I have no doubt that more services will launch and develop, and not just across sport but the whole broadcast market. There may come a time where there's simply too much choice for consumers and they'd rather have one or two services where they can watch everything. This is something we'll keep a close eye on so we are able to adapt appropriately."