DBW and Betamedia launch innovative new IP-based OB vehicle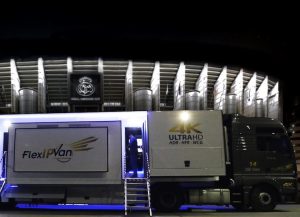 An OB vehicle that is described as being Italy's first to be entirely IP-based is the result of a collaboration with DBW and Betamedia. "Its name is FlexIPvan OB-Van 14 and it [has been developed] after a year of studying and discussion, and in line with an innovative approach to system architecture," says DBW CEO Stefano Rebecchi.
Rebechi continues: "It is based on the great expertise derived from international experience. It contains highly integrated technologies, six working rooms with exclusive access doors, and 26 full operative desk positions."
The emphasis with this new truck is on versatility of production. The IP-based infrastructure enables production involving up to 36 HD cameras, as well as 4K SDR and UHD filming with 24 cameras. At the heart of the design is a Snell Advanced Media matrix coupled with a Kahuna video mixer capable of multi-standard and multi-resolution video management with HD and Ultra HD output.
Besides working with typical TV production configuration, the vehicle is capable of generating images with a more attractive studio look due to operating with cinema style cameras and prime lenses. Using a static address and fibre optic connections, this vehicle can overcome the limits of a typical onboard matrix and the production team may send to the remote venue only the resources which are really useful.
Rebecchi continues: "DBW has heavily invested in the 4K native format in Italy – and in HDR (High Dynamic Range) – and now we own a huge number of Sony F55 and 4300 cameras and 4K Canon lenses. Investments were also made on slow motion, adopting EVS 4K and Sony 4K servers which, coupled with the Kahuna 9600 switcher, mean the possibility of real 4K native TV production and not upscaled which is common practice but [sometimes not] considered as proper 4K. The agreement between DBW and Betamedia comes after a year of intense cooperation, mainly on sports events. DBW brought experience from Stereo 3D, 4K,HDR, and VR 360, while Betamedia has a huge experience in OB vehicles and a good fleet. Betamedia has brought in this adventure their great experience in the IP world and integration of the latest technologies."
OB Van14 also represents the fusion of TV and cinema technologies; namely cameras with super 35 sensors and others with 2/3" closely intersecting. This also means offering the market two different possibilities within a single TV workflow.
In a sports broadcast, for instance, typical broadcast cameras can be used for their smaller sensors, yielding a wider depth of field, while the more cinematic images can be achieved thanks to the F55.
Stefano Rebecchi declares: "Our partnership will produce more and more 4K in HDR and also in HD HDR, especially abroad where cinema-look [productions] are particularly appreciated on the TV screen. Here we use 4K cameras with super 35 sensors and prime lenses, just like a studio production."
Modular design approach
Rosario Messina, technical representative of Betamedia, is the 'father' of this project, which evokes the concept of building blocks that can be assembled and reassembled in order to suit different projects. "So the content provider may send to the location – to each location – a vehicle equipped exactly and only with the required apparatus, leaving the unnecessary ones to be used in other venues.
"The Flexi-Van original patented style (in the US) makes it possible to connect groups of equipment with a single multicore cable, in order to gain a great flexibility of the several different modules of the production system. This fosters the possibility of dynamically reconfiguring any production system according to the real needs and even cooperating with third parties abroad. For instance, in a foreign venue, this could mean that only the precise equipment needed is taken whilst other systems from [project partners/collaborators] may also be used.
"The idea beneath is optimising resources and several modules, each accomplishing a [specific] task, can be associated and quickly moved to any location of the world. Any vehicle can be quickly reconfigured according to needs and no equipment is 'stuck' anywhere.
"The newest FlexIPvan is just an extension of the original idea and the only difference is that all configurations and functionalities are developed and managed in the IP world, [so further] extending the flexibility and the facility of engaging only the equipment needed."
The system is structured around the Extreme router, and and the new generation of switches, based on 40/100 Gb ports and 400 Gb ring Buses, will facilitate 6 to 9 TB of non-blocking bandwidth.
Specially manufactured/engineered cable connections by Link are already used in other Flexivans (3G, 12G), while new optical MPO-MTP connectors are being developed to support the IP standard on FlexIPvan.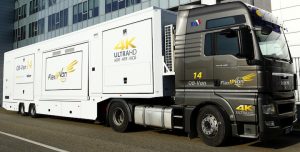 The IP infrastructure, mainly based on SAM equipment, becomes central in the production environment, whilst a powerful matrix is managed by a dedicated software to quickly change any required reconfiguration. The entire production process can be optimised thanks to the IP infrastructure with obvious benefits for the use of onboard systems and overall project efficiency.
The Kahuna video mixer is central to this landscape for its ability to mix different resolutions and formats, and manages Ultra HD with or without HDR, as well as HD. The different outputs supply the different standards in line with the broadcasters' requirements (clean, host, personalised, etc).
SAM was also chosen for the IP matrix, which has the same features of the typical broadcast ones but in the IP realm.
The design leverages many advantages of the IP infrastructure, including those consolidated in 2022-6, 2022-7 and TR03.
Design essentials
The FlexIPvan 14 is a 13.60 mt and 14.70 mt vehicle with extensions (2.55 mt and 5.50 mt with extensions width). It can handle up to 36 Cameras HD-3G or 4K/UHD HDR – HFR – WCG (Sony HDC-4300 or PMW-F55).
Onboard are up to 10 EVS 4K servers and Sony live production solutions. The video switcher is a SAM Kahuna 9600, whilst IP routing aligns to SMPTE 2022-7. Monitors are SONY OLED HDR / TV-LOGIC / EIZO, while multi-viewers are Grass Valley Kaleido. HDR processors are SONY S-LOG3 / HDR10 / HLG / REC-709.
The audio mixer console is a Stagetec Crescendo, with audio routing based on Stagetec Nexus. The Clear-Com intercom is also IP-based.