Dega Broadcast Systems protects "over 16,000 live streams" during Rio 2016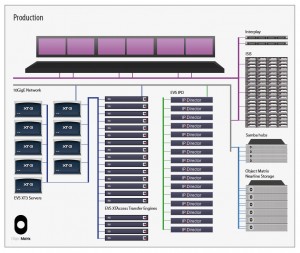 Integrated media storage provider Object Matrix has announced that UK-based systems integrator Dega Broadcast Systems implemented over 500 terabytes of MatrixStore object storage to provide nearline storage in EVS and Avid workflows for the BBC Sports production centre in Rio De Janeiro this summer.
Following the successful design and implementation of the production centre for the London 2012 event, Dega Broadcast Systems was again chosen to provide systems and services for the Rio games. Working with partners HyperActive Broadcast, UK technical specialists in live broadcast environments, Dega required a nearline storage solution that:
– ensured content ingested via 9 XT3 servers and 15 EVS XTAccess transfer engines was guaranteed to be secure and verified;
– 36 High Definition streams;
– 36 Proxy streams;
– supported growing files so that clips could be accessed as they were being stored in the nearline solution;
– shared content across teams;
– protected content from more than one workflow;
– complemented their existing Avid ISIS environment.
Given the high profile of the event Dega Broadcast Systems also sought a high level of commitment to support the solution during the design, test and implementation, and during the games themselves. After much research working together with Hyperactive Broadcast, Dega decided to implement MatrixStore object storage from Object Matrix.
"Object Matrix provided excellent support throughout the project and were very responsive to our and our clients' needs," stated John Cleaver, director, Dega Broadcast Systems.
The MatrixStore platform implemented by Dega Broadcast Systems at the IBC in Rio consisted of: 528 terabytes net of 10gigE connected nearline storage; four Object Matrix high hub+ servers providing secure SMB access to the content; and MXFS (MatrixStore file system) for 3rd party transcode workflows.
The system delivered successful storage of over 16000 streams, nearly 3000 log sheets, over 1000 playlists, and almost 2000 competed edits.
Object Matrix object storage and integrated workflow solutions are trusted by the global broadcast community to protect digital assets in a manner that allows them to be protected, tagged and shared on-demand. Providing highly secure and self-managing platform ensures customers can perform important, time critical tasks and not waste time managing storage.
"Without gushing too much, it has been a complete honour to be involved in this prestigious project and humbled that the Dega Broadcast team trusted Object Matrix to be part of its implementation for the BBC Sports team," stated Nick Pearce, co-founder Object Matrix. "We are incredibly proud to have been given the opportunity to play a part in the Rio games this summer and more so with the level of support we provided from the design phase through to the closing ceremony."