Delivering remote sports solutions for 2021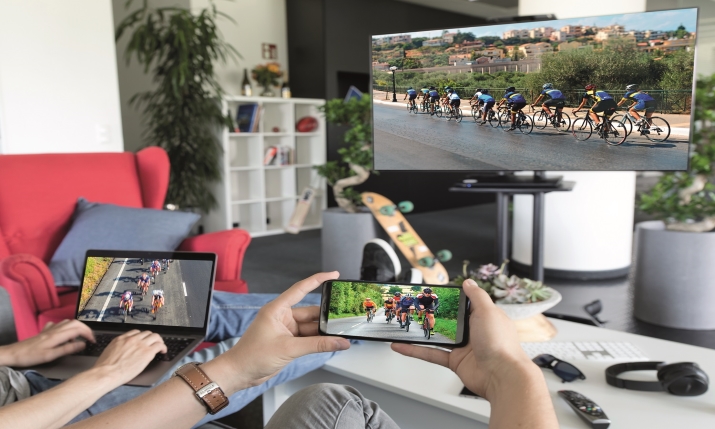 By Chris Clarke, chief executive, Cerberus Tech
Live sporting events have made it through a challenging time, adapting to empty stadiums and unpredictable schedules. Broadcasting workflows have changed beyond recognition to meet the demands of an exceptional set of circumstances.
As we look towards 2021, the content delivery transformation will need to continue. Having had the opportunity to test out everything from socially distanced production to remote commentary, the sports industry has seen the potential of new technology. Many stakeholders have already experienced the flexibility and cost-effectiveness of cloud-based tools first-hand and are now questioning the necessity of some of their pre-COVID broadcasting processes. By adapting to new methods, sports broadcasting can recoup revenue, restore stability and get match fit for the year ahead.
A self-managed mindset
Sports right owners and affiliates are looking to implement the right solutions to help them deliver content without traditional infrastructure over the long term. But they are starting to realise that operating efficiently means operating with a level of independence. Now that the standard broadcasting chain has been adapted to meet the challenges of the pandemic, it's clear that there are links in the chain where efficiencies can be maximised and costs reduced.
The rise of cloud-based workflows has enabled organisations to manage circumstances much more effectively than they had previously considered possible. Cloud-based infrastructure currently covers everything from contribution through to post production. Social distancing was, of course, a key factor in the implementation of these remote processes, but the instability of scheduling has also played an important role. One of the benefits of having your infrastructure located in the cloud is that it can be spun up and spun down at a moment's notice. Whether scheduling transport or creating remote-edit workstations, organisations are becoming architects of their own infrastructure, adapting it to suit short-notice changes to schedules, the addition of new affiliates following last-minute rights sales and even full match cancellations.
By managing the logistics of their operation in the cloud, sports stakeholders have started to regain control of their costs. Now that broadcasters have thrown out the rule book of how content can and should be delivered, it seems unlikely that they will return to business as usual after the impact of the pandemic has settled down. If anything, organisations will be looking to expand upon the autonomy they have experienced while using scalable, self-service infrastructure.
The cost of delivering
It has been common practice for sports rights owners to get an agreement in place, pass on the source details and leave the taker to work directly with technical service providers. In many cases, this meant that the technical fees for transporting content to a facility exceeded what takers were paying commercially for the broadcast rights. Now that budgets are tightening, organisations will be casting a much more critical eye over where savings can be made. One thing is clear, technical fees need to be brought under control.
This year, broadcasters have experienced the flexibility of IP delivery at a greater scale than ever before. For tier 2 and 3 sports, IP delivery means more than just savings, it could be the difference between reaching new audiences or not being seen at all. Even before COVID, many lower tier sports organisations were looking at the possibility of offering games for free, simply to grow their audience. While these organisations have control of their own rights fees, they still have to get over the hurdle of technical costs which are built into the broadcasting chain.
Covering expenses through advertising, in order to remove rights fees and offer a more commercially viable proposition is a sound strategy, but it still leaves these lower tier organisations with the challenge of attracting takers who will cover the high technical costs of traditional delivery methods. With huge revenue losses from the pandemic, even tier 1 providers will need to carefully consider technical savings that could be made on some of their content by changing their approach to delivery.
Adaptability is key
With IP offering the most cost-effective approach to remote delivery, it's likely that its current reach will expand further in 2021. But when dealing with live events transported to multiple takers, the lower costs of IP can only be maximised with a self-serve approach. This requires IP contribution providers to adapt to takers' technical requirements and offer them the control to monitor and manage their own feeds.
Given the challenges we've been through this year, it's understandable that companies won't want to be locked into proprietary technologies and infrastructure which doesn't adapt. As with the adoption of any new technology, agnostic is the key word. Stakeholders across the broadcast chain require solutions that can be customised to their needs, as well as flexibility around transport and cloud infrastructure. No-one wants to be tied to infrastructure which is only compatible with one cloud platform, even if that platform is a giant like AWS.
For IP delivery to become ubiquitous, it must also be compliant with multiple protocols so that takers can pick up the feeds in whatever format they require. Otherwise, you are expecting users to incur further costs, supporting multiple ingest infrastructures or asking them to adapt their internal content management systems to suit different transport methods. To be a truly competitive option in the marketplace, IP needs to slot into the broadcasting chain like a perfectly shaped jigsaw piece, connecting sources to all destinations. That way new infrastructure can support the existing chain, manage the challenges that the industry is currently facing and transition to a more efficient future.
As we move into a more IP-focused broadcasting environment over the long term, providers need to start thinking big. To manage economies of scale, technical responsibilities must be shared and self-serve ownership offers the way to achieve this.