Deltatre and Massive Interactive: The OTT story so far
Largest independent OTT provider on path to increase experience for clients
On 8 November last year, Deltatre completed its acquisition of OTT provider Massive Interactive for a total of $127 million. This deal created one of the largest OTT sports providers in the world and a company rumoured to be worth around $1 billion.
Since the acquisition completed the two companies have been aligning strategies while allowing Massive interactive to continue to operate independently as a division of Deltatre.
Tony Page, president for EMEA, discussing the acquisition, commented: "We're in the process of kicking off the first major project between us and Massive. At the moment the plan is Massive will operate as Massive does, effectively as another business unit within Deltatre.
"From my point of view it is the complementary products and capabilities we now have that's important. Both companies complement each other and now we're the largest independent OTT provider, we want to increase that experience for our clients.
"We're quite uniquely positioned with our combined OTT platform and history in more traditional broadcast on-site services. Our understanding of the broadcast market and OTT puts us in this converging space," he continued.
Massive interactive's next generation user interface, Axis, and audience engagement technology add a valuable new dimension to Deltatre as end user experience (UX) has become a difference-making resource for digital media growth. Axis underpins sports and entertainment OTT streaming services for the BBC Worldwide, Bell Media, Channel 5, Telecine, Sony Pictures Television, DR and numerous other high profile clients. It is a valuable addition to Deltatre's Amplify, an OTT platform which is currently serving the ATP's Tennis TV, NFL Game Pass Europe, FINA TV, and several others.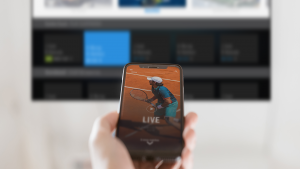 Together, Amplify and Axis combine to provide an advanced end to end OTT product suite for all media, providing customers with a highly scalable, quick-to-market solution that drives engagement and increases the profitability of OTT video services.
Page has recently returned to Deltatre. He was previously managing director for Europe at Hawk-Eye Innovations, and prior to that was at Deltatre for 11 years, including heading up Deltatre's broadcast graphics and results business in the UK. He commented: "I came back because I'm proud of what we've built in Deltatre. When I joined in the UK we had 10 people. When I moved on there was 90 to 100 people in the UK.
"Now, this is an exciting time; with the growth in OTT and the Massive acquisition, we're really one of the largest OTT agencies on the market so it felt right to come back and focus in what we're doing in the OTT space," Page continued. "We have been doing a lot of work in recent years on our digital first productions, and now adding Massive to the group with its Axis console, we can take that to the next level.
"My remit is for EMEA. Because of the knowledge and experience we've built up in this region, we're helping Deltatre to build and support the US in OTT services; the US is an expanding region and office for us."
The future is about continuing to hone the two company's products and to increase the quality of its offering to customers, concluded Page: "It was thought that younger consumers aren't watching as much sport [as older viewers on TV] but they are, over IP, and that needs to be addressed properly. We need to tailor experiences, track user habits and really understand them to be able to deliver in that way. With Massiv,e we can make that content available and really tailor it to the individual consumer."