Deltatre unveils Saas platform for improving UX decision making
Deltatre has announced it is soon going to launch its new software as a service (SaaS)-based solution, mtribes, aimed at enabling real time data-driven user experience decisions.
The tool allows any media operator running a multi-platform digital or over the top (OTT) service to quickly identify user groups and their behaviours, create highly personalised user experiences, and measure the effectiveness of personalisation through real time insights.
It is designed to be used by marketers and product owners who can quickly identify 'tribes' of users that share similar characteristics, and configure the UX accordingly, including design, features and promotions, to grow engagement and reduce subscriber churn.
mtribes allows sports providers to analyse user behaviour in real time and effectively identify and segment user tribes, including fans of different teams or sports. The platform's UX and promoted content can be altered in real time to more effectively engage users.
To help digital video providers give their users a more personalised experience, mtribes brings together audience segmentation, user experience configuration, user insights, and feature testing under one holistic console for non-technical teams.
On average, it takes less than 15 minutes to integrate mtribes into websites and apps already live in the market.
With mtribes, media operators can better define strategy and validate investment into a streaming service by making it easy for editors to test new campaigns or features on a subset of users, before rolling out to a larger audience. It can track user activity across devices to build a comprehensive picture of how a customer uses a digital service, and generate insights that can be used to measure the effectiveness of user experience personalisation decisions.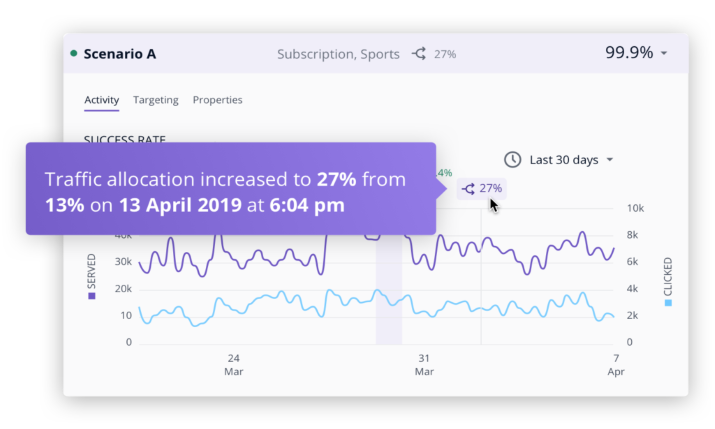 Editors using mtribes can control and configure an unmatched number of components within their existing apps, including user prompts, theming, navigation, content and promotional rails, advertising, forms and user acquisition flows through a simple drag-and-drop interface. This not only promotes greater internal efficiency around the management of in-market applications but enables operators to capture larger audience share through the ability to quickly differentiate against competitors.
Developers can integrate the mtribes software development kit (SDK) into their existing apps and websites to begin tracking user activity and controlling the presentation of key user experience components and features within moments. This makes it an ideal tool for video providers looking to include a targeted experience component to their platform at the start, end, or in the middle of their current development cycle.
"Today's OTT providers come up against three main challenges," said Ron Downey, president of OTT at Deltatre. "How do we configure our UI without devoting valuable resource on engineering that's better spent elsewhere? How can we unlock our data and truly understand how users interact with our service? And how can we target, measure and validate personalisation based on these insights? With mtribes, there is now a product that can answer these questions for operators across both sport and entertainment in minutes, not months."
Added Giampiero Rinaudo, CEO at Deltatre: "Data, both understanding it and using it to drive business goals, is a common problem shared across sports and entertainment organisations, particularly at the current time when learning about a user is crucial. With mtribes, we now have a product that is a first of its kind, enabling rights owners and holders around the world to keep their audience engaged for longer through best-in-breed technology. We're very proud to continue pushing innovation around how our clients engage with their fans."
Deltatre works with a variety of the world's most high-profile sport and entertainment properties. Many are adapting to the challenges presented by recent adjustments to the global sporting calendar. In entertainment, an increased number of people are turning to streaming services as we spend more time indoors. mtribes will help organisations in both sectors with a product that unlocks exciting new opportunities and supports longer-term product and audience engagement strategies.
A limited number of free trials will be available upon launch.