Der Klassiker: Record number of cameras for Bayern Munich v Borussia Dortmund Bundesliga tie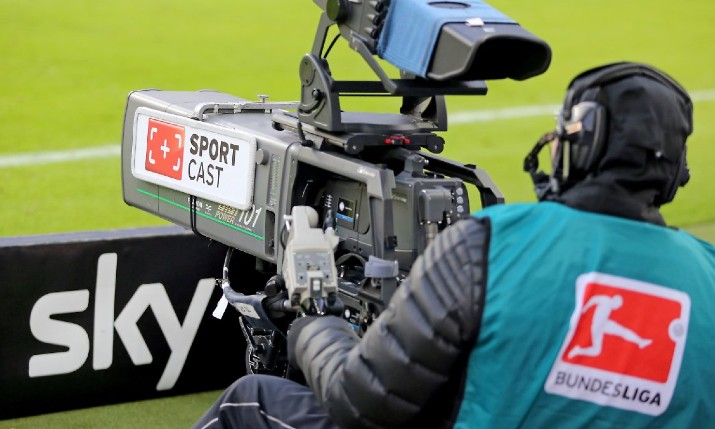 A record number of cameras will be used to capture the action at Saturday's match between Bayern Munich and Borussia Dortmund, with additional cameras positioned around the Allianz Arena in Munich for the top-of-the-table clash.
A Bundesliga match is usually covered by at least 19 and up to 26 cameras, but the match on Saturday will feature 32 – a record for a Bundesliga broadcast.
The UHD-HDR coverage and camera plan has been devised by DFL subsidiary and host broadcaster Sportcast. It includes corner flag cameras, a railcam, and an extra high-speed Polecam attached to a four-metre-long jib arm that covers the entire goal, including the view through the goal net and enables extreme slow motion.
An additional ultra slow-motion cam with a focus on extreme slow motion that captures six times more images per second than an ordinary camera will also be deployed. A second wireless handheld cinematic-look camera will also be used, along with additional cameras for capturing reactions from coaches and players. A drone outside the stadium and an aerial camera system will provide shots from the air.
Sky and numerous international media partners will also be showing the Tactical Feed, where the main camera always shows the full-pitch view, including all 20 outfield players, while information and graphics are shown at relevant points throughout the match in a J-shaped frame at the edge of the screen. These include the Bundesliga Match Facts powered by Amazon Web Services (AWS), with the average positions of both teams, tactical team data and individual information on the players.
Three international media partners – SkyPerfecTV! in Japan, Network 4 in Hungary, and Sky in Mexico – will also be giving their viewers the chance to watch Der Klassiker via the Interactive Feed from the DFL. Along with the live stream, it will provide viewers with match data which they can display on their screen or hide. They can also view highlight videos on demand.
International media partners will be able to use content produced by the DFL subsidiary DFL Digital Sports from the organisation's International Product Portfolio, which includes the entire match with English-language commentary, interviews and highlights.
International interest
With just one point between league leaders Borussia Dortmund and Bayern Munich, DFL (Deutsche Fußball Liga) is anticipating keen interest in the fixture.
The match will be broadcast in more than 200 of the 211 FIFA member countries. In addition to the national media partners, a host of international TV broadcasters will also be dispatching their own crews to the Allianz Arena in Munich to cover the 108th Bundesliga meeting between the two clubs.
The list includes ESPN (US), ESPN Deportes (US, South America), Viaplay (Poland, Norway, Sweden, Finland), beIN Sports France, beIN Sports Middle East, Network 4 (Hungary), Canal+ (Sub-Saharan Africa), OneFootball and BAND Sports (both Brazil), all of which will be reporting live from the stadium with commentary in their respective languages and interviews with players and experts pre- and post-match.
On the day of the match there will also be watch parties in the US, Mexico, Brazil, Argentina, Thailand, Indonesia, China and Nigeria.