Design-led OB11 truck rolls out on the road for TV Skyline
OB11 is the latest addition to the TV Skyline family. Planning this new HD truck, the emphasis was firmly on interior design and provision of creative production space – so much so that all technical equipment is located in a separate support tender truck.
The new OB made its debut in May at the season opening of the German Touring Car (DTM) Championship at the Hockenheimring. At the Sky Sport Summit in Munich last week SVG Europe sat down with TV Skyline managing director Robert Kis to discuss the look and feel of the truck — plus where a large new vehicle like this one fits into the big picture of OB production in Europe for the foreseeable future.
SVG Europe: OB11 is a new highlight truck for TV Skyline? The first thing that strikes me looking at images of the interior is design, not technology.
Robert Kis: "Yes it's definitely new and definitely a highlight! TV Skyline has taken a different approach since 2017, starting with OB7 and then with 8, 9 and 11. We always try to make something different, to have a new kid in the design family – but always a different approach to design with sometimes more wood and sometimes more stone.
"We do have a problem describing OB11! It's a little bit like a Louis XIV castle. Or other people have said it looks like a fancy nightclub!
"We have taken most of the technology out, to the supporting tender, therefore we can now easily place the tender truck somewhere else to have let's say a first approach to a remote production.
"The reason OB11 is different: firstly we thought well nobody has done this before, so why not? If you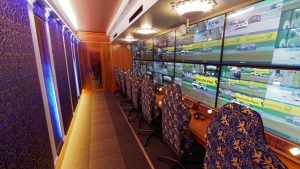 place the technique outside the OB, you don't have to care so much about the conditioning of the tender truck. It can be loud and you don't have to worry about what it looks like inside, as nobody sees it.
"Instead we could focus totally on the most comfortable space for OB11, with multifunctional areas such as our red and blue galleries. The EVS systems are in the tender truck, but the controllers, if you need them, are in OB11. We have 34 workspaces there.
"It is not an Ultra HD truck. We already have one UHD truck. The German market is not so much in Ultra HD at the moment. But we can look at that, and decide which truck in the Skyline fleet – OB7, or 9, or 11 – will be the next for Ultra HD. We try to be flexible – at least as flexible as is possible when you build an OB. Our OB8 is UHD HDR, and we can decide when to upgrade one of the others.
"The first big event for OB11 was the start of the German Touring Car Championship, the DTM, on behalf of Wige Broadcast and ETR in May. We also did the FIFA Under-20 World Cup football in Poland for HBS, and last week on behalf of Wige Broadcast we did the 24-hour racing at the Nürburgring, a big production in combination with the G10 gallery truck. We had 55 working spaces and five galleries there."
SVG Europe: And clearly, OB11 is designed for production people who spend a lot of time in the truck.
Robert Kis: "They spend a lot of time in the truck and they need space. We recognised that productions are consistently getting longer and we need more people to be there.
"And we have a lot of productions beside the normal football ones, such as eSports, events and shows. These need a hell of a lot of people. And also we need to show the sponsor what we're doing, so we need space and a comfortable area in which to do a good job. Our crew gave us feedback about how they work and what environment they like, so that also helped our feeling that we will make a good job."
SVG Europe: So what's your feeling about putting trucks on the road: are we coming to the end of the era of building big new OB trucks like OB11?
Robert Kis: "I don't think so. I don't think there will be and end to big trucks because you have big productions.
"The production landscape will change for sure with the introduction of IP – not just as talk or discussion. We did our first really remote production with eSports in 2013 with 25 cameras in Berlin and the director sitting in Los Angeles. We do the new and funky stuff, and we try to have a good look at developments. But there will still be trucks. As long as we have good ideas for trucks, we are happy to [take that approach]."
Technical equipment set-up in OB11 and support tender vehicle
Camera set-up
40+ cameras
Up to 4 SSL camera systems alternative NAC HI-Motion II ultra-slowmotion camera (option)
Fujinon/Canon lenses from 14×4.5 to 99×8.4
Vision control
3G SDI 536 x 1112 router
VSM-control
TC router 64 ports
IHSE KVM switch 32 ports
(Main) Production area A
2x HD/SD multiformat switcher GV Kayak HD
144 inputs & 48 inputs, 48 outputs & 24 outputs
3M/E GV Kayenne XL panel
10 x 55'' display
Production area B (multifunctional room)
Used as production area, Avid editing room, EVS and graphics area, meeting & screening room or editorial office
2 M/E GV Kayak panel
10 x 55'' display
Recording
Up to 12x EVS XT3 12 channel
Audio Area
Lawo mc² 56 MKII high end audio console with 56 channel stripes
HD Core Nova 73 router with 8192×8192 matrix points
Dynaudio 5.1 speaker system with digital connection
Wohler audio controller
2x 128 channel multirack recording
Multi channel audio processing Waves Soundgrid Extreme Server
Intercom: Riedel Artist
– 3x 128 x 128 ports
– 6x main radio
– 40x portable radios
6 stageboxes via fibre (SMPTE 3K93C)
DSP redundancy
2x 8 channel VoIP
Up to eight additional codecs