DFL and AWS debut new Bundesliga Match Facts for shot efficiency and passing profile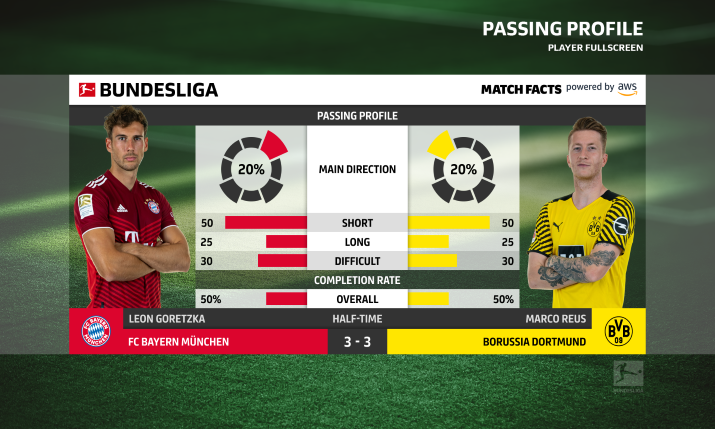 The German Football League (Deutsche Fußball Liga – DFL) and Amazon Web Services (AWS) have launched two new Bundesliga Match Facts that can be used as graphics during TV broadcasts and in the official Bundesliga app.
Shot Efficiency compares the number of goals that a player or team has scored with how many goals the player or team should have scored based on the quality of their chances. While Passing Profile provides deeper insights into the pass quality of a player or an entire team.
Both new stats debuted during Matchday (11-12 September).
Bundesliga Match Facts help audiences better understand nuanced aspects of the game, such as decision-making on the pitch or exceptional player performance. They are generated by gathering and analysing the match feeds from live games in real-time as they're streamed into AWS.
On the backend, AWS capabilities in analytics, machine learning, compute, storage, database, serverless, and media services are being used to process and store the vast amount of data that powers these statistics, as well as to train, deploy, and scale the machine learning models used to generate predictions. Fans see these insights as graphics during broadcasts and are provided with statistics in the official Bundesliga app.
Andreas Heyden, executive vice president of digital innovations for DFL Group said: "These two new stats give fans a view into player efficiency that hasn't been achieved before, and we are just at the beginning of our relationship with AWS. I'm excited to see how technology will continue to evolve the fan experience and the game."
To develop these stats, machine learning models trained on Amazon SageMaker analysed thousands of video hours of previous Bundesliga seasons in the DFL Media Hub. In the case of Passing Profile, video of nearly two million passes were analysed and the collected data were used to construct an algorithm that computes a difficulty score for each pass at any moment, evaluating characteristics such as distance to the receiver, the number of defending players in between, and pressure on a player in real-time. Once computed, Bundesliga aggregates difficulty scores for each player and team to form a passing profile.
The two new Match Facts join Speed Alert, Average Positions, xGoals, Most Pressed Player, Attacking Zones, and Average Positions – Trends to bring the total number of insights available for Bundesliga fans to eight.
Klaus Buerg, general manager for AWS Germany, Austria, and Switzerland, added: "Through the work we've accomplished with Bundesliga in creating eight Bundesliga Match Facts in a short period of time, we are giving fans a new way to appreciate speed, field positioning, goals, and passing and shot efficiency creating even more excitement in watching the game."