Digital revenue: How sports clubs, federations and broadcasters can monetise more content online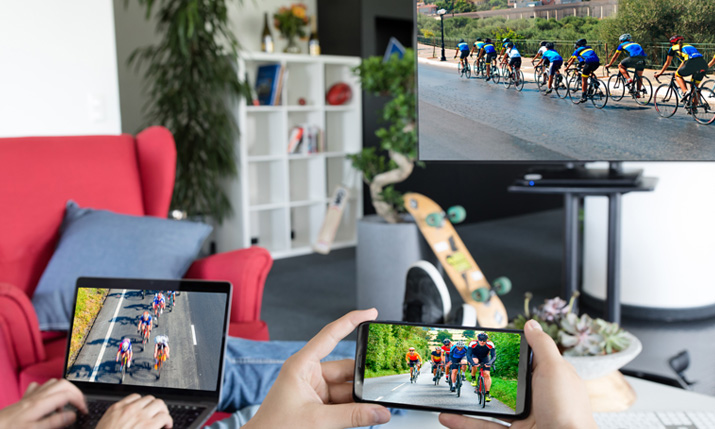 By Aaron Duckmanton, global head of marketing, Grabyo
While the sight of empty stadiums during sporting fixtures becomes a familiar sight, those that make up the sports industry are still figuring out how to generate much needed revenue.
The impact of lost ticket and sponsorship revenue is a challenge that cannot be ignored. For instance, it has been reported that the NFL is set to lose between $2 billion and $4 billion this season, whilst Manchester United claim they are losing £5 million every time the team plays at an empty Old Trafford stadium.
Clubs, leagues, federations and broadcasters need to get creative and look at alternative, digital-first strategies to bring in stable revenue streams.
OTT owned subscriptions
For rights holders who don't want to partner with social media platforms and want to take control of their user data and subscriptions, the option to host exclusive content behind a paywall on owned websites and over the top (OTT) platforms is a viable option.
This model is well adopted by many broadcasters and media rights properties, but is often treated as an additional option to TV viewing, however with the proliferation and adoption of OTT and direct to consumer (D2C) platforms, is this the time individual clubs and teams look to commercialise exclusive content to fill the void?
During COVID lockdowns, linear TV subscriptions have continued to fall, albeit at a slower rate than pre-COVID. Streaming however, has increased rapidly. In Grabyo's 2020 At Home Video Trends Report, 59% of consumers stated they would be happy to watch sports exclusively on digital platforms for the foreseeable future. Altogether, 77% of sports fans reported watching content regularly on streaming platforms.
The report gave us a clear indication that sports fans are looking to broadcasters and sports properties to offer more affordable, more flexible viewing options for live sport. Many of these behaviours are likely to remain post-COVID, in 'the new normal'. Sports fans were already looking at the entertainment industry, with various streaming options available, and wanting the same in sport.
Facebook fan subscriptions
In September 2020, FC Barcelona became the first sporting organisation to offer Facebook's Fan Subscription service. Fan Subscriptions offer access to premium content on Facebook for a monthly fee and can also be used for exclusive pay per view (PPV) live events. They contain unique content formats and interactive experiences, while fans get the chance to join an exclusive Facebook group for their interest.
Facebook's Fan Subscription service makes a lot of sense for sports clubs for two main reasons. First, clubs, teams and franchises can offset lost revenue by maximising their assets; access to players and new content. Second, fans can get closer access to their favourite teams or athletes, while clubs see a tangible return for their content efforts.
The absence of live sport created a vacuum, then filled with new content ideas from sports organisations. The restrictions put in place forced clubs and athletes to deliver content remotely from home, stripping back all the bells and whistles and giving fans a raw, unfiltered view into their lives across social media.
The reception to this content has been highly positive. Fans have felt engaged and are now expecting more of the same. There is likely to be a healthy appetite for the Fan Subscription model, delivering an all-new digital revenue stream to clubs.
Fan subscriptions can be a long term play for clubs. The findings of Grabyo's 2020 At Home Video Trends report suggests there has been a shift in attitudes towards watching sport on digital platforms that is unlikely to be reversed. The current pandemic has accelerated the adoption of streaming, and sports has historically been behind the curve in offering these subscription services to fans.
Segmented subscriptions are likely to be the future of sports consumption for both broadcasters and clubs. If clubs can add real value with their fan subscription service – which is delivering timely, engaging content to their channel – fans will respond, and interest in this type of service will increase.
The strength of offering a video subscription on social media is that clubs can allow fans to dictate what value means to them, by using views and engagement data to inform content strategies. Clubs can be very agile with what they produce.
Also, live social broadcasts are an effective way of offering value, especially in the short term while everyone is staying at home. These broadcasts act as a focal point for fans to meet online and interact in real-time while watching the broadcast. Audience participation features such as live polls and integrating Facebook comments drives engagement with fans and allows them to influence what they watch.
Once a club has an engaged audience, the broader commercial opportunities come into play, which can help to create a self-sustaining model for the service. Clubs will be able to offer potential sponsor partners a highly targeted audience with more digital inventory to leverage. By having this first-party data, clubs can work with sponsors and partners more directly to show reach and return on investment.
Social media advertising
As sports have returned with no crowds, the whole matchday experience has gone digital, which is highly attractive for advertisers. The usual 3pm crowd who would be in the stadium are now using social media as a second screen, actively consuming match content, scores, team announcements and live updates, which presents a huge opportunity to partner with brands and sponsors
The strength of social media is its real time nature. Publishers have spent lockdown trying to retain the loyalty of social audiences, and some have seen high returns.
Advertisers need to recognize the potential of video assets on the platform beyond bumper ads. Specialised pieces of content are most effective; those that align a brand with a sporting entity that offers the right video content for the right platform, with quick highlights, raw content, and in real time.
Clubs such as Everton, Man City and many more are monetising highlights and clips through Twitter's in-stream advertising, with the likes of PayPal, Persil and KitKat all purchasing pre-roll ad inventory through Twitter.
The lack of matchday revenue has forced clubs to harness the commercial value of social platforms, using their ad serving functions and creating more branded content. However, not every club has adapted as well as others, leaving missed opportunities.
For broadcasters, the challenge is recreating the communal experience that fans usually have when watching from home. This could be at a friend's house or in the pub. Social live video has provided these virtual meeting spaces that fans have utilised en masse. Broadcasters are able to provide sponsor partners with prominent branding on these broadcasts, while delivering more value to its consumers.
The struggle for advertisers and sponsors during the sports hiatus was the lack of in-person activations on matchdays. Not only were people not seeing the expensive billboards that line every stadium, but sponsors were not able to leverage partner hospitality or events.
As a result, sponsored content for social, either ad bumpers, or 'presented' live streams and clips became very popular.
There is every chance this becomes a habit for sports fans even when attendance restrictions are lifted and more live games return. Social media platforms are primed to remain the go-to destination for digital content and as such, will be highly lucrative for advertisers and commercially successful for clubs.
Social live video has also risen in popularity and is beginning to enter the mainstream content mix. Sponsors will want to get involved as early as possible to reap the benefits, while publishers refine their strategies.