Dizplai's Viewers' Verdict Scorecard delivers a knockout punch for Sky Sports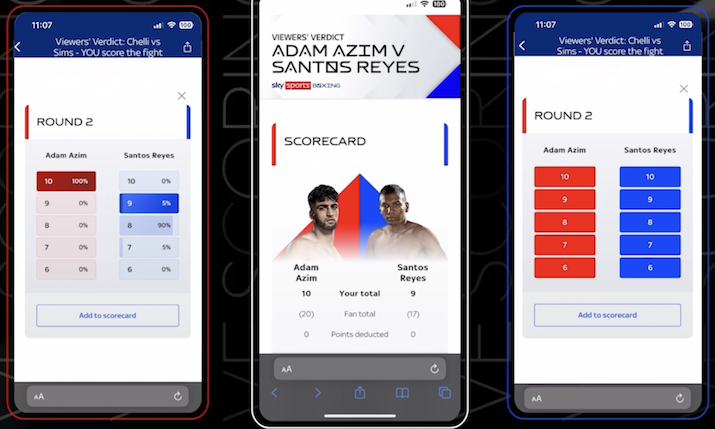 Sky Sports is using Dizplai's engagement platform to take audience interactivity to the next level by allowing viewers to score each round of a live boxing match from the comfort of their sofa. The Viewers' Verdict concept, a collaboration between Sky Sports and Dizplai, has been designed to enhance viewers' experience of watching boxing and bring them even closer to the action.
Viewers are prompted by a QR code on screen which leads them directly into the Scorecard within the Sky Sports app. Once they've submitted their score for each round, moments later a graphic on live TV shows the average score given by the home audience – providing an additional talking point for the commentators and also allowing the audience to compare their scores with others.
The Sky Sports Viewers' Verdict Scorecard has proven to be a significant success to date with over 45,000 viewers accessing the Sky Sports app to submit their scores during the launch fight earlier this month.  It has also generated a lot of buzz and positive feedback for its innovative approach to audience engagement. And for new viewers of the sport, it provides a more interactive, instructive experience for those less familiar with the nuances of boxing scoring.
"We're really proud of the Scorecard and the reaction it has received from Sky Sports viewers so far," said Ed Abis, managing director of Dizplai. "It's a great example of how gamification of live sports can enhance the viewing experience and close the loop between linear broadcast and a personalised digital experience."