dock10 diversifies as MediaCity hub status continues to grow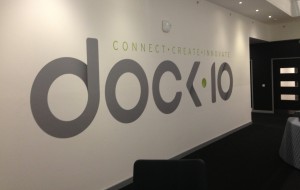 A joint venture between SIS and The Peel Group, dock10 is both figuratively and literally at the very heart of Manchester's MediaCity development. Opening its doors mere months after construction of MediaCity completed in late 2010, dock10 has rapidly become a market leader in HD studios – but also has burgeoning interests in post-production and cloud solutions.
Speaking to trade press on a day visit to dock10's canal-side facilities, chief executive Mark Senior defined the company's four-tier focus as "digital infrastructure and workflows; delivering a unique environment and great audiences; providing great value and quality of service; and ensuring a breadth of offering to our clients."
From an initial focus in children's and sports broadcasting – areas which remain integral to the overall workload – dock10 is now evolving a presence in entertainment, comedy and drama. Underlining the facilities' diverse appeal, children's TV stalwart Blue Peter, talent contest The Voice and gameshow perennial Countdown were among some of the shows in production on the day of SVG Europe's visit.
Backing up these many and various shows is a technical infrastructure that includes seven HD TV studios ranging from 12.500 sqft to 1000 sqft, two extensively specified audio studios, and a permanent facility for one of the BBC's five radio orchestras, the BBC Philharmonic.
But whilst the large studio side might be the most salient aspect of dock10's work, its post-production arm is also flourishing – and has, in fact, grown rapidly since the site went live in early '11. At time of launch, dock10 post was established to deliver fast turnaround post with multi-format content ingest; 12 off-line and on-edit suites based on Avid Symphony and Composer; Avid Isis, Isilon nearline and Spectra logic archive storage; 5.1 Pro Tools dubbing theatre, and QC and tech review capabilities.
A little under three years later, however, and dock10 post now possesses 27 edit suites and a second 5.1 Pro Tools dubbing theatre. The post arm has also introduced a QAR service and is undertaking a wider variety of work across all broadcast genres and corporate work. "The speed of dock10's post development has been very gratifying," remarks Paul Austin, head of post-production and content. Moreover, with a recently signed five-year preferred supplier deal with RED Productions to its credit, that trajectory isn't likely to change any time soon.
Underlining its impact on the whole MediaCity development, dock10 also manages the fibre optic network interconnecting the site. In practice, this means the company delivers managed ICT services for more than 90 SMEs, along with a variety of broadcast services – including file content delivery networks, base band video and big screen playout.
Surveying the increasingly crowded Salford skyline, Senior confirmed that dock10 is also looking to develop its cloud offer and ensure readiness for the new Ultra-HD format – and undoubted 'hot button' industry topic of the moment – 4K. Expect to read more about its preparations for the latter on SVG Europe in the near-future.